Southern York County Sends Two Students to National Band Festival
York County sent two students to the 2019 National Association for Music Education conference in Orlando, Florida. 
 Susquehannock's Lucas Schwanke and Kenard-Dale's Annie McPherson attended the conference at the Gaylord Palms Resort on Nov. 6-10, 2019.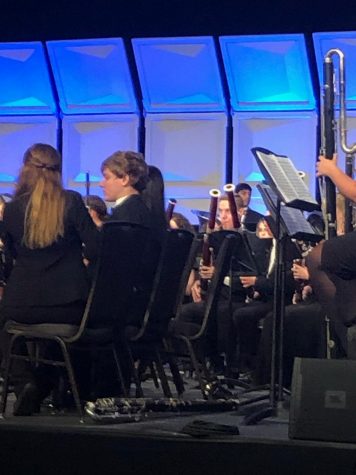 The NAfME All-National Honor Ensembles represent the top performing high school musicians in the United States.
The ensemble performed under the baton of Emily Threinen, Professor of Music, University of Minnesota.
Both of the students were proud of their accomplishments because of all of the hard work that they put into making it to the National Band.
McPherson commented on how her own hard work helped her get into the National Band. 
"It meant that my hours of practicing finally paid off, and I felt validated that I am going the right way in my career," said McPherson.
For McPherson, being able to play with so many talented musicians was something she did not take for granted.
"It was amazing to work with people from across the country, because I got to make new friends and experience playing with old camp friends and colleagues again for the first time(in a long time)," said McPherson.
 Schwanke was very proud of playing with the National Band on Sunday, November 10.
"I felt relieved(about making it into the band), because it was four years in the making. It was ether I made it senior year, or never had the chance to make it again," said Schwanke.
Most of the people who made it into the ensemble were able to do something within their playing that stood out to the judges.
"I think it was the way I approached and executed my stylistic approach," said Schwanke.
Christain Poole, Schwanke's band director, talked about how much Schwanke has meant to the program and also how much he has improved over the last few years.
"He's improved tremendously, one of the few students I have ever taught to achieve to the level that he has," said Poole. "[Lucas] has certainly exceeded expectations. When I first met him, I did not realize that in five years he would make the All-National Band, and would be auditioning for scholarships at some of the most prestigious music schools and universities in the country. And (Lucas) is probably one of the top bassoon players in the country." 
Poole commended Lucas's leadership and influence on the music department.
"By having someone like Lucas here…there are other students in the room as well who are absorbing his practice techniques, his work habits, his dedication to his instrument," said Poole.
Poole appreciates how all students are individual in their own right; although, Schwanke does some things that make him truly different.
"What makes Lucas unique, is his really serious work ethic to his craft and to his instrument," said Poole. "It's not just his bassoon playing. Music to him in particular (he is) just so interested. It goes well beyond the playing of the instrument. I have seen very few people have such interest, especially as a highschool student, get into music that deeply. It's really cool." 
McPherson's band director, Matthew Barr, also noted how different she is as a student from any others that he has had before her.
"Annie has shown intense focus on clarinet and pursued prestigious opportunities like Interlochen Summer Arts camps and All-National Band. I never thought I would have a current student performing at internationally-renowned arts events," said Barr.
Barr also elaborated on some of McPherson's goals.
"I've yet to see her 'ceiling,'" said Barr. "Annie wants to play clarinet in a professional symphony orchestra, and I truly believe she will achieve that. In addition to her MANY musical accomplishments, Annie is just a great person. I'm honored to be able to teach her and make music with her."
National Band may not be the end of these two students' high school careers; they both can qualify up to states their senior year, as they both continue to bolster their musical resumes.
About the Writer
Matthew Schwanke, Reporter
Senior Matthew Schwanke is a reporter for the SHS Courier staff. Matthew Schwanke hopes to do some photo journalism this year for the Courier. In his free...