Science Students Study Soil
Elizabeth Worley's AP Environmental Science students completed a lab on understanding the different components of soil last week. 
Worley's stepfather Joe Brown, a senior engineer of water resources at RK&K,  deals with soil and researching the different components regularly.
Worley found that this would be the perfect opportunity for a hands-on learning experience with someone who does this soil unit for their career.
One student, senior Emma Burns, appreciates Brown's involvement.
 "It was very kind of Mr. Brown to come in and take a week to teach us the ins and outs of soil analysis," said Burns.
The lab used to be one day in its first year, but was so successful that the past two years have been a full week.
The lab consists of one week of students participating in activities and lessons.
One activity they did was put soil and water into graduated cylinders, and then let them sit for 24 hours which separated the soil into different layers for them to identify the particles.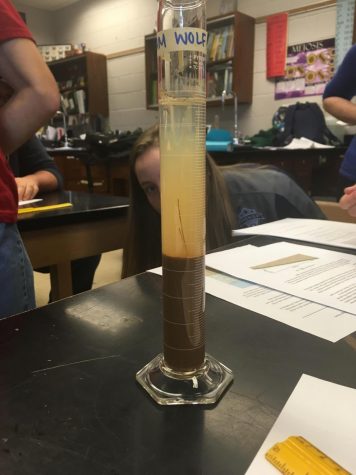 At the end of the week, they perform a job that is applicable to the real world of environmental science.
Senior John Kroh feels that the lab helped prepare them for future exams.
"I felt that the soil lab was a really good tool for the AP test, because it gave us a hands on perspective of what soil does. It helped me personally with understanding soil and its different properties," said Kroh.
The whole point of this lab is to allow students to learn about soil components while thinking outside of the box instead of memorizing words on a paper.