Behind the Scenes: The Role of Stage Crew
Walking onto the stage, you look to your left  and see students drilling metal into pine, the smell of paint is in the air- the stage crew is setting the scene.
Along with handling the responsibilities of creating the atmosphere for "Puffs," this year's fall musical, the members also have to juggle the responsibilities of being a teenage student.
Junior AJ Marusko knows the struggle well as the stage manager.
"We have rehearsals at least three times a week, usually lasting two to three hours each. On top of that, each weekend I am building the set here at the school," said Marusko. "…but I love it nonetheless."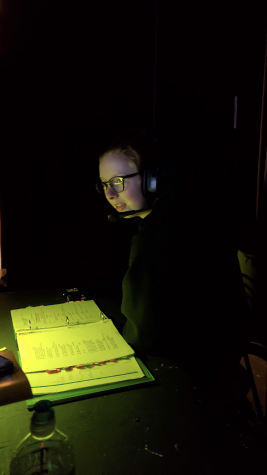 Senior lighting manager Ian Achterberg has learned a few valuable life lessons from working on the crew.
"I have learned how to work with others, as well as [how to] lead small to medium-sized groups," said Achterberg. "I have also learned how to operate and manage lighting instruments, something I did not expect to learn in high school."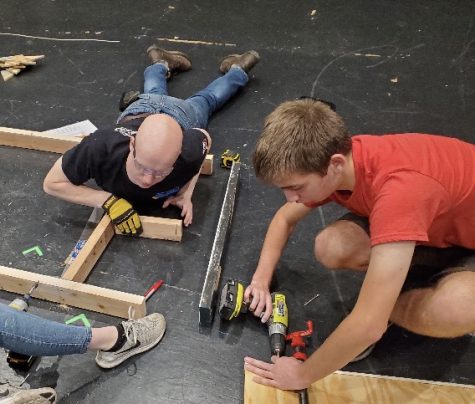 Running crew freshman Lauren Paules saw the transition into high school crew as a positive one.
"Joining stage crew as a freshman was great!" said Paules. "It's also awesome to be in crew while in high school because during the day I see a ton of my older friends that are in crew."
To see the work of the stage crew, go see Puffs on Nov. 22 and 23 at 7 p.m. and Nov. 24 at 2 p.m. Tickets can be found at susquehannocktheatre.com. Adult tickets are $6, and student/senior tickets are $5 dollars. They will be one dollar extra at the door.
About the Writer
Ava Holloway, Reporter
Freshman Ava Holloway is a reporter for the Courier. She is most excited  to get more involved in student life and  to capture meaningful moments with...