Boys Soccer Advances to States
The boys soccer team won against Hershey on Saturday, Nov. 2 by a score of 2-0. 
The Warriors scored a controversial goal when sophomore Fallou Cisse took it from the goalie and put one in the back of the net, but it was called back by the ref. 
Senior Jon Lippy managed to make a penalty kick to give the Warriors a 1- 0 lead.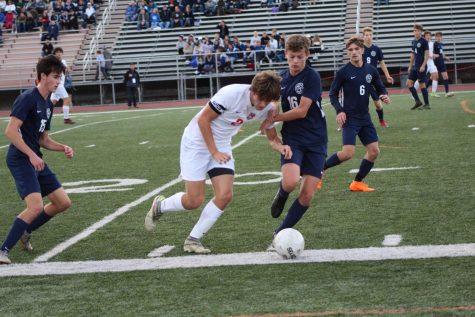 Then, senior Greyson Murray beat the goalie to deposit one directly in the bottom right of the net.
Hershey had multiple chances, but seemingly could not find the goals they were looking for. 
The Warriors' defense stepped up and grabbed a shutout win.
The Warriors now move onto the PIAA Soccer Championships where they are looking to make a strong showing. 
Junior Nick Holloway is glad about where the team is at this point in the season.
"We are obviously very happy about the result we got against Hershey. We knew what we were playing for going into the game, but we took care of business. It was a goal of ours all year to get to states, and we knew we were good enough to get there," said Holloway. 
Sophomore Ashton Murray feels great about how the Warriors played this time around.
"Following the win against Hershey, the team was truly exuberant. Sure, we may not have placed first, but we took that loss and put everything we had out there on the field," said Murray.
The Warriors suffered two heartbreaking defeats in postseason in counties against Dallastown and districts against Northern. 
Junior Sam Thomas is ready to get states rolling. 
"We played well against Hershey. If we keep playing like that, we can go far," said Thomas. 
They now look to bounce back and make their mark in the state championships Tuesday, Nov. 4 against Strath Haven.