Football has Bright Spots in Losing Season
With the loss against York Suburban on Friday, Oct. 25, the football season has come to an end, 4-6.
Head coach Steve Wiles was proud of the way the boys played this season.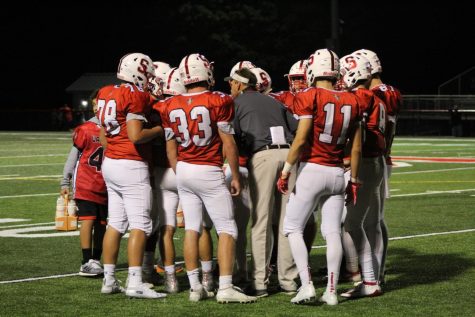 "They were all one score games, so we lost very close games," said Wiles. "I was hoping to get another win or 2, and they would say the same, but some of those loses were really tough."
Senior Jacob Barnhart was named division two first team offensive center in the county.  He is sad to see the season come to an end but is ready to see how the team competes in the upcoming years.
"I'm going to miss all of the guys, all the memories we've had together," said Barnhart. "I'd like to see how the underclassmen mature and see them do as good as we did this and in past years." 
Coach Wiles celebrated his twentieth  season as a varsity coach and his twenty-seventh year of coaching.
Freshman Bradley Bennett was excited to play his first year of high school football as a varsity and junior varsity quarterback.
"It's nerve racking for varsity and a little stressful sometimes," said Bennett. "It's a lot more competitive, and it's longer, harder, and faster, but it's given me more experience."
Athletic Director Brad Keeney especially enjoyed watching the boys throughout the season.
"We had some really good wins, but my favorite part of the season wasn't just one specific game, it was just seeing us grow," said Keeney. "I feel like this year they did a great job at creating a tight family."
Other players mentioned in the York-Adams football Coaches All-Star team for 2019 consisted of:
Senior Dan Clapp, Second team offense, Running Back
Senior Luke Ohmann, Second team offensive Guard and defensive Inside linebacker
Senior Chris Moss, Second team defensive corner
Honorable mentions included: senior Brock Hofler at defensive tackle, senior Dan Clapp defense at inside linebacker, and junior Mike Staub at defensive outside linebacker.