Language Classes Plan to Travel
By KC O'Neill, Photography & Social Media Editor
October 29, 2019
Editor's Note: These are not school sponsored trips and are run through an outside organization that host teachers participate in.
---
French, Spanish and Latin students plan to travel abroad in the upcoming summer breaks.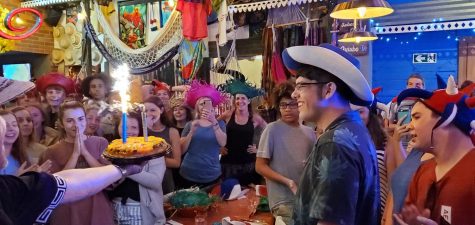 French teacher Stephanie Myers will lead French and Latin students on a trip July 11-18.
"We will be going to Martinique which is in the Southern Caribbean," Myers said. "It is called the Lesser Antilles."
Spanish teacher Nicholas Schiffgens will take students that are currently in Spanish and Latin classes to Ecuador in the summer of 2021. 
"We are going to the mainland, so we will quite literally be in the middle of the world," Schiffgens said. "From the mainland, we're also going to include a trip out to the Galapagos Islands which is off the coast of the Pacific Ocean." 
While the Ecuador trip will be a total of 11 days, Myers has a set plan of eight days in Martinique. Myers and Schiffgens have invited anyone that is currently enrolled in language classes, level II and up. 
"I also invite people who went on my previous trips that are still enrolled in Spanish classes," Schiffgens said.
According to Myers, the climate in Europe is not always the best, so she wanted to find somewhere students probably are not familiar with. 
"I figured it would be something that not a lot of French students have done before- to get them somewhere off the beaten path," said Myers. "It is not one of the islands that has tons of resorts." 
Schiffgens has never been to Ecuador before, so he is excited to experience the trip with the students for the first time. 
"I like to have the same excitement as the kids, if I can," Schiffgens said. "I know my excitement can be contagious. The more excited I am to do something, kind of gets them pumped up and excited about it for it to be better for them."
Both teachers have fun excursions and activities planned for the students; they even have some free time to explore the shops and cultures.
"We are doing a catamaran boat tour to go sailing on the Caribbean Sea," Myers said. "They are having a scavenger hunt in the Spice Market. We are going to a banana museum…do some walking tours…look at the street art and some museums and cathedrals. 
The Spanish trip also has fun activities planned in Ecuador and on the Galapagos Islands.
"We are going to visit some nature museums to learn about biodiversity," Schiffgens said. "On the Galapagos Islands we are going to check out a bunch of different regions. We are going into the Amazon and a cloud forest and do a lot of hiking. And we are actually going to hike in a national park with a snow-capped volcano, Cotopaxi."
Cotopaxi is Ecuador's largest volcano and has been dormant for the last three and a half decades.
"We are going to do some white water rafting and snorkeling," Schiffgens said. "And meet up with some native-indigenous people to see what life is like for these people and how they live which is totally different because it is outside of the city."
Spanish student Haley Hebel and French student Elena Pasko also cannot wait for their upcoming trips.
"I am really excited to see all of the animals there," Hebel said. "And see the scenery because it is neat to see something new.
According to Pasko, she is most excited to spend time with her friends away from school because they will experience something new together.
"I am excited to go out of the country and travel," said Pasko. 
The teachers hope the students learn how to gain confidence while using their language. Both the teachers and students hope they learn how the different diversities in the countries they are traveling to will show them what life is like living outside of the United States.