Boys Soccer Remains Strong
The boys soccer team has successfully completed an undefeated season and scored a division championship while doing so. 
The team currently has 16 wins, 0 losses and 2 draws, and they are first in the district. 
The team is ranked seventh in the state of Pennsylvania and 161 in the nation.
Susquehannock did not drop a game in their division except for a draw against West York.
The Warriors played the York Suburban Trojans on senior night to determine whether they clinched the division win or not. 
The Warriors pulled out a 4-2 win over the Trojans to clinch coach Brett Maxwell's fourth consecutive division title. 
Senior Nolan Holloway had 2 assists while senior Jason Smiley racked up an assist as well. 
Junior Sam Thomas put one in the back of the net, and senior Mitch Brown also added a goal. 
The Warriors' biggest goal contributor was senior Greyson Murray who accounted for 3 goals for the team, racking up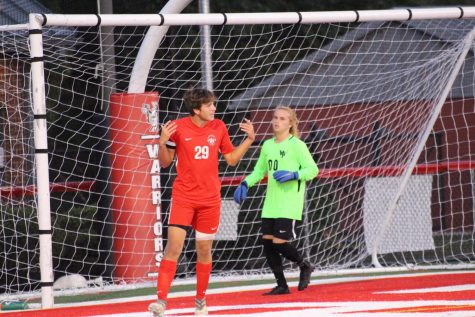 2 goals and 1 assist. 
Senior goalkeeper Nick Koval had a big game in goal with  5 huge saves.
The Warriors then defeated Dover Saturday, October 12, 5-1, and now are moving into postseason play. 
Junior Sam Thomas is excited for postseason, but realizes mistakes must be limited.
"We have to keep playing our game and stay focused. There is no room for mistakes in single or double elimination tournaments like counties, districts, and states," said Thomas. 
Sophomore Ashton Murray recognizes the task at hand, but is ready.
"It will be hard, but we have definitely proven that we can represent our school positively, and can continue doing that throughout the postseason," said Murray. 
This game was the first round of counties at Northeastern High School, serving as a neutral location between both teams. 
Junior Nick Holloway is not overlooking any opponents this postseason. 
"We know we can be the better team. However, we are going into the game as if we don't know the team and are taking it on as a new challenge and trying to progress in the tournament," said Holloway. 
The Warriors defeated the Panthers in penalty kicks as senior Jon Lippy scored the winning penalty and senior goalkeeper Nick Koval made several big saves.