Take a Stroll Down Sweet Street at Homecoming
Start thinking about what dress you're wearing or what color tie to match because homecoming is early this year on Saturday, September 28. 
The theme "Stroll Down Sweet Street" has already been introduced with some changes.
Student council's senior dance committee member  Caroline Kinna describes one of the different features that students should be excited about for this year's homecoming.
"One of the major changes we're having for the dance committee in the planning is that we're doing a candy bar at the end, so you can go and get a goody bag and fill up your bag with candy in hopes that people will stay later to get that candy. That's one of the major differences for the dance itself," said Kinna.
Besides the candy bar, there are a few other initiatives this year that the dance planning committee is hoping will encourage students to stay later at the dance. 
Last year, the DJ at homecoming was a controversial topic among students.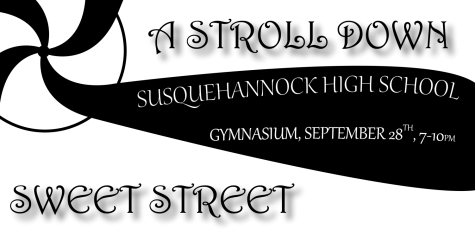 Kinna explains that they have listened to the students and have taken action to make the music better this year.
"Sometimes homecoming just gets that negative stigmatism like 'Oh, it gets boring,' and we're hoping that people don't blame the DJ for last year. We want to make it clear that we have a totally different DJ and company this year, so we're just hoping people will stay later and enjoy the dance," said Kinna.
Senior dance committee member for student council Annie Hebel talks about another change at homecoming: a raffle and the slightly higher ticket price that comes with it.
"One of the biggest new aspects of homecoming this year is that we are having a raffle, so with every ticket you get one entry into the raffle, and this year we're raffling off tickets for Hershey Park in the Dark, a Susky spirit basket, and a dinner and a movie. Tickets are $20 this year which is a little higher than last year, but that gives you your raffle ticket. The drawing will be at 9:30 p.m., and you have to be there to win, essentially," said Hebel.
Besides the planning for the actual dance, student council wants to make sure that the week of homecoming is also full of fun activities for students. 
Senior member of the entertainment committee for student council Jake Barnhart explains another addition to homecoming week: a free movie night.
"The movie night this year is on Monday, September 23 at 7 p.m. We're going to have it on the baseball field, and we're going to watch "Charlie and the Chocolate Factory" (the new one with Johnny Depp), and we encourage people to bring blankets to sit on the baseball field and watch the movie and have fun. We will be selling baked goods if you want to have a quick snack," said Barnhart.
Some additional activities for the week of homecoming are of course spirit week, the Powderpuff game on Wednesday for juniors and seniors and the hallway decorating contest. 
On Friday, September 27, there is also a pep rally which includes the announcement of the homecoming queen; these senior girls are candidates: 
Julianna Baibos 
Jemma Delozier
Sarah Ketterman
Amber McClure
Ashlynn Weger
Savannah Davenport
Lillian Denis
Madeline Marzullo
Juliana Skuba
Sophia Wetzel
Also on Friday, Sept. 27, the homecoming football game against West York takes place at 7 p.m.
"We would love to see everyone come out to all the pre-festivities the week of homecoming. We have a lot of awesome things planned, and it's going to be really cool," said Hebel.
About the Writer
Grace Gorham, Contributing Writer
Senior Grace Gorham is a contributing writer for the Courier this year. Outside of school, she rides horses competitively. In her free time, she enjoys...