Luke Combs Gives Fans What They Want
By Alex Martuszewski, Reporter
May 22, 2019
Country singer Luke Combs will drop a new album this summer, "Beer Never Broke My Heart."
The preview song for the "Beer Never Broke My Heart" album, released in early 2019, looks promising.
Junior Amber McClure appreciates his traditional style.
"'Beautiful crazy' is my favorite song of his so far because it is upbeat and cute," said McClure.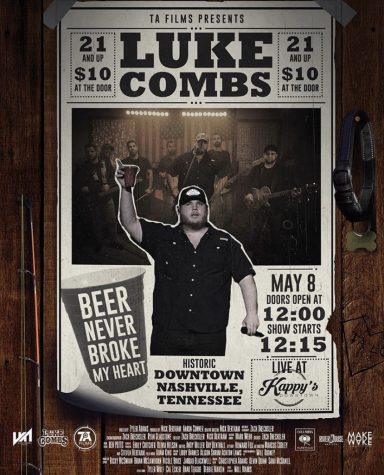 The 29 year old, North Carolina native is a popular favorite for country music listeners.
Junior Daniel Clapp replied "Yes, very much" when asked about being excited for the new release. Clapp claims to have been listening to his music for a couple years now and enjoys his music greatly.
Junior Connor Kernan is looking forward to the release after hearing the album preview song. The preview extends off of Combs' already established deep voice, upbeat country music.
The release is getting overall positive feedback. Although, one student found a gripe.
"Yeah I liked it. It was what I was expecting I just wish he gave us some more Yee Yee's though," said Kernan.
The lyrics represent life's unknowns, and in the song Combs accounts the things in his life he can trust. The chorus goes, "But long-neck ice-cold beer never broke my heart like diamond rings and football teams have torn this boy apart."
It will be hard to say if any song of the new album will be able to top the four No. 1 singles he dropped in This One's For You (2017).
"In the car and anytime during the summer is a good time to listen to Combs," said McClure.
Students look forward to listening to the album over the summer.
"Oh, all summer long. All day long YEE YEE!" said Kernan.