The Eras of Taylor Swift Change Again with TS7
Some of my first memories with my best friend include listening to the first Taylor Swift album on a Sony boombox back in 2006.
The slow, country ballads about romance made any kindergartener want to fall in love.
13 years after her first album, she is returning with a seventh installment after the age of social media and celebrity 'snakes' tarnished her reputation.
Starting as a country singer, she released three strictly country albums – "Taylor Swift" (2006), "Fearless" (2008) and "Speak Now" (2010).
Cumulatively, these albums resulted in multiple Academy of Country Music nominations and awards for video production, best female artist, entertainer of the year, song of the year and album of the year.
Her album "Red" (2012), although being categorized as country for most all 2012 to 2013 awards, is arguably a bridge to the pop scene.
The track "We Are Never Ever Getting Back Together" broke records, peaking at number one for four weeks and remaining on the chart for a total 50 weeks.
These iconic 2012 middle school jams were on the same album as country-inspired tracks such as the title track "Red" and "All Too Well."
Because of this blend of genres, longtime fans see Swift's defining transitional period. Her transition, however, only took place over the "Red" era as "1989," released in 2014, is pop-dominated.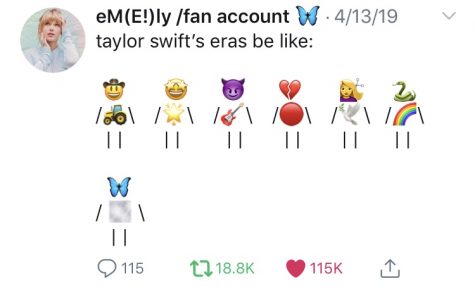 Swift left the country genre for good and never looked back.
Defining tracks like "Blank Space" and "Welcome to New York" sound more produced, as they don't feature her distinctive acoustic guitar driven melodies.
"1989" also has hints of the "reputation" era to come.
Tracks like "Shake it Off" and "Bad Blood" talk of early drama in the Swift realm.
Combatting haters and rumors become topics at the forefront of Swift's music, setting up listeners for the highly debated and most intense Swift album to date – "reputation."
Drama with the "Kimye" duo involving contentious phone calls, rumors about her love life and social media haters drove Swift to create this album.
"The idea of your reputation is definitely something that I play on for the entire album, but when the album starts off, it's much more bombastic: It's more like, 'Oh, I don't care about what you say about me,'" Swift said during an iHeartRadio interview in 2017. "Then it hits this point on track five where it's like, oh God, what happens when you meet somebody that you really want in your life and then you start worrying about what they've heard before they met you? And you start to wonder, could something fake like your reputation affect something real, like someone getting to know you?"
The first single, "Look What You Made Me Do," was released on Aug. 24, 2017, followed by three others from September to November.
The album as a whole went on to be the second best-selling album of 2017.
Not only did this album surprise listeners with a strong discography, it changed the game for Swift.
Moving from her country love song roots into celebrity drama and diss tracks created a new tone in her music.
In addition, not only does she talk of recent events that have made national headlines, she speaks of her changing reputation, thus creating the title of the album.
In the music video for "Look What You Made Me Do," Swift is seen standing on raised pedestal looking down at images of her past self that ultimately fall into the depths below her.
The music video fully encapsulates the new glamorous, diamond clad, powerful woman of the "reputation" album.
On April 26, 2019 Swift released a new single entitled "Me" featuring Panic! At the Disco's Brendon Urie.
The music video, released on the same date as the track, broke YouTube and Vevo records, holding the most views in a 24 hour period.
It also is the fastest video to reach 100 million views, a title previously held by Ariana Grande's "thank u, next."
Swift has issued a statement letting fans know the name of her second single and album title are hidden within the video, leading many to hunt for the easter eggs.
With lyrics such as, "Hey kids, spelling is fun! … you can't spell awesome without me…," the song seems to be written for the soundtrack of an animated movie.
Overall, the track does not reflect the high level of talent of both artists.
The "reputation" era has officially died.
This girly, magical vibe of the secretive TS7 takes fans back to 2006, leaving many unamused by the lack of depth.
Cryptic album announcements are nothing new for Swift and her fans, but after two years of waiting for new music, this new track was a disappointment.
Leading up to the launch of "Me," Swift posted pastel scenery, flowers, butterflies and rainbows to hint the theme of her next album.
The release is reminiscent of the "1989" first single release, "Shake It Off."
The catchy, overplayed, childish lyrics were no representation of the intricate songs that followed with the full release.
Knowing Swift's reputation, TS7 is sure to deliver – after the mediocre first single, let's hope it does.
About the Writer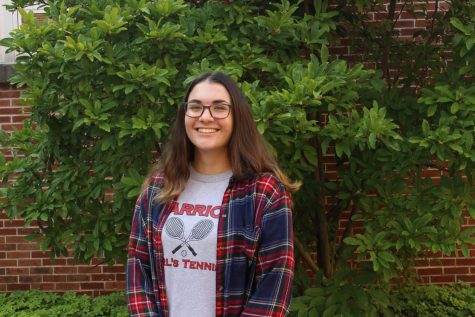 Mia Kobylski, Editor-in-Chief
Senior Mia Kobylski has been on the Courier staff for three years. She plays on the varsity tennis team and participates in Best Buds, Student Council,...