Listen to the Ultimate Michael Bublé Collection
Michael Bublé is an incredibly talented artist who has toured around the world, starred in his own NBC Broadcast special and has hit the tops of the Billboard charts multiple times with millions of fans.
Even with all of the accolades, he cherishes his ability to represent his idols, such as Dean Martin, Frank Sinatra, Ella Fitzgerald and Louis Armstrong, and sing songs telling superb stories for a living.
Here is the ultimate Michael Bublé playlist.
5 Most Well Known Songs – His biggest hits, according to the Billboard charts :
  "Haven't Met You Yet" – One of the most well known Bublé songs, it is very upbeat and hopeful, as Bublé trusts in the future bringing him the person he wants. It peaked on the Billboard Hot 100 in 2010 at number 24.

  "Home" – This is a beautiful, relaxed song, originally written by Blake Shelton, given a new take by Bublé. It peaked at number 72 on the Billboard Top 100 in 2005.

  "Everything" – This is a very relaxed but energized song on how the person the song is directed towards means everything to the singer. This peaked at number 46 on the Billboard Hot 100 in 2007.

  "Hollywood" – A song about how Bublé doesn't desire someone who has money and fame, but rather someone who is a good person. He tells the listeners to realize this too, and that they are enough. It peaked at number 55 on the Billboard Hot 100 in 2010.

  "Love You Anymore" – The first song that was released from his newest album, "Love," introduced many new people to Bublé.

Photograph by Jeanie Mackinder [CC BY 2.0 (https://creativecommons.org/licenses/by/2.0)], Wikimedia Commons.


Michael Bublé sings at the Sydney Entertainment Centre in June of 2008. Jeanie Mackinder [CC BY 2.0 (https://creativecommons.org/licenses/by/2.0)], Wikimedia Commons.
5 Best Fast Songs:
  "I Believe in You" – This is a heartfelt song where Bublé is optimistic about the relationship that he and the person he is singing to can have.

  "You Make Me Feel So Young" – This cheerful song is about someone making the singer feel energetic and youthful.

  "It's a Beautiful Day" – The anti-love song, according to Bublé, it is about how a person's life became better after someone who hurt them left.

  "Such a Night" – From his newest album "Love," Bublé reminisces on a special night.

  "Crazy Little Thing Called Love" – This song, written by Freddie Mercury from Queen, was sung by Bublé with a jazzy take.
5 Best Slow Songs:
  "On an Evening in Roma" – This smooth song contains both Italian and English and is about the singer spending a night in Rome.

  "Georgia On My Mind" – This melodic masterpiece has been sung by multiple people, and the song can be about both the state or people named Georgia.

  "God Only Knows" – A very meaningful song that Bublé sung to his family is about how he is so lucky to have his family in his life and how he would be nothing without them.

  "Hold On" – This is a soft song about someone being there for their partner, even after some tough times.

  "Lost" – This sad song about regret realizes that you aren't alone or lost, reassuring that there is another chapter of the story to come.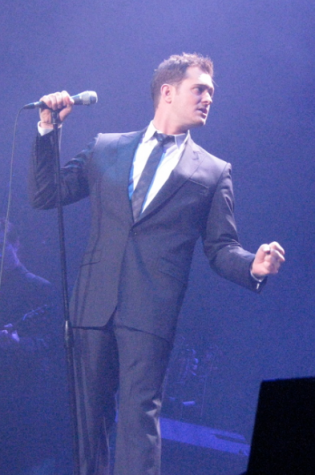 5 Best Hidden Treasures:
  "All I Do Is Dream of You" – From his album "Crazy Love," Bublé sings about how he can only think and dream about the lady he is singing to.

  "I Get a Kick Out of You" – From his "Love" album, Bublé sings how things that largely impact  people have no effect on him, but the person he is singing to makes him feel a newfound excitement.

  "Take You Away" – From his "Nobody But Me" album, it is about a person convincing someone to get away from their stressful life and go on an adventure with them.

  "End of May" – From his album, "Hollywood The Deluxe EP," the song is rather somber. It reflects on the difficult times the singer is going through.

 "You're Nobody Till Somebody Loves You" – Also from his "Crazy Love" album, it was a song that Dean Martin sang that inspired him. It is about how nothing really matters except love.
5 Best Duets:
 "It Had to Be You" with Barbra Streisand –  This classic jazz song, performed by Bublé and Barbra Streisand, focuses on how much they have impacted each other's lives.
  "Don't Get Around Much Anymore" with Tony Bennett – This upbeat tune features both Bublé and the well known Tony Bennett. It is about how life has changed without someone they used to spend time with and how they don't do much now.
  "Alone Again (Naturally)" with Diana Krall – A rather solemn song covered by both Bublé and Diana Krall, it is about someone feeling very alone in difficult times.
  "La Vie En Rose" with Cécile McLorin Salvant – This exceptionally relaxed love song includes Bublé and award winning jazz vocalist Cécile McLorin Salvant.
  "Have I Told You Lately That I Love You" with Naturally 7 – This is an extremely lovely song about reminding others that you care about them. It is led by Bublé and backed by Naturally 7.
Top 3 Holiday Songs:
  "White Christmas" Duet with Shania Twain – This is another version of the classic Christmas song about dreaming of a white, magical Christmas.

  "Baby It's Cold Outside" Duet with Idina Menzel – This is a cover of the popular duet by Bublé and Idina Menzel where there is a debate convincing a person to stay a little longer as the weather is rough.

  "The More You Give (The More You'll Have)" – This is a song focusing on how the holiday season is the best part of the year and the joys of experiencing it with friends and family.