Two Sophomores Travel to Kentucky for Volleyball
Two  sophomore students, Savannah Lesley and Emily Sweitzer, traveled to Kentucky with a local club volleyball team on Tuesday, April 30.
Lesley and Sweitzer are part of a club team with Ballyhoo Sports Academy, an academy that hosts teams to play and practice at Heritage Hills Athletic Club.  
There are various volleyball teams with the sports academy, and both Susquehannock students are part of the "16 white" team.
This team is considered a nationals team which means they have opportunities to travel and compete against other players outside of a local setting.
Lesley and Sweitzer traveled to Louisville, Kentucky for the JVA World Challenge Tournament. At the tournament, their team is under the division on "16 Premier."
The girls team placed 33 over 55 teams and had a record of four wins and three losses.
When traveling away from her hometown, new opportunities arise for Sweitzer as a volleyball player.
"It (the tournament) gave me the opportunity to see the different skill sets throughout the country," said Sweitzer. "Also, I got to see all the college coaches that were scouting people while they played, which gave me the opportunity to reach out to them…".
Lesley feels playing on this higher level team has changed the way she plays and views the sport.
"It (the team) has changed me playing volleyball because now I moved from outside to right side (hitting position), and it is making me a more diverse player which I can benefit from when I go to play at collegiate level," said Lesley. "I can also learn the game in a different perspective because we see so many different teams in the the US and how where you live can affect the type of ball you play."
Both girls agree that being a part of the Ballyhoo team has increased their dedication and commitment to volleyball.
Lesley and Sweitzer are not done traveling yet and will continue to travel up until the end of June.
The girls traveled to Philadelphia for a tournament this past weekend and will finish their season with a final tournament in Florida.
About the Writer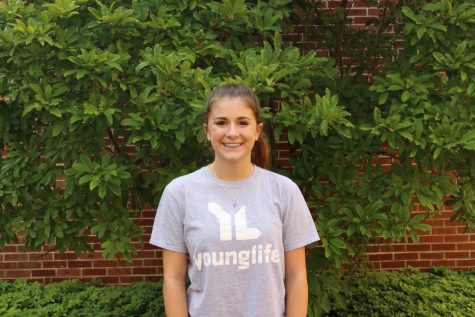 Stephanie Graffin, Reporter
Stephanie Graffin is a first-year, sophomore reporter this year, and she is most excited about sports photography. Outside of school, she enjoys her part-time babysitting...