Link Crew Selects New Leaders
Hang on for a minute...we're trying to find some more stories you might like.
Link Crew is working on assembling a new group of  leaders  for the 2019-2020 school year.
Thirty-four new members have applied for the next school year; however, not everyone will be selected.
Social studies teacher Kevin Lawrence is one of the teachers in charge of Link Crew.
Picking a new group of leaders is very time consuming due to the long process.
"The period from the application being released and the final decisions being made is four to six weeks," said Lawrence. "Most of that time is for candidates to complete and submit their applications, then schedule the interviews, conduct the interviews, make decisions and finally, inform everyone who applied."
Not only do students have to fill out an application, they also have to have a sit down interview with one of the three teachers.
New leaders need to be the perfect fit in order to guide the incoming freshmen and make sure they are comfortable within the new school.
"[Leaders get] an opportunity to serve, develop leadership skills and a chance to strengthen their school community by helping to ease the freshman experience," said Lawrence.
The students have the ability to grow while helping the freshmen, and the freshmen have the ability to feel comfortable in the school.
Freshman Jennifer Wagner had an easy shift to the high school because of the leaders.
"The Link Crew has helped me adapt to the new school," said Wagner. "It was a big change, but it was easy thanks to them."
The leaders make a difference while helping the new students.
Junior and Link Crew leader Emma Roberts has grown throughout her experience in Link Crew.
"I've gotten to know a lot of people especially underclassmen who I usually wouldn't talk to or interact with," said Roberts.
The freshmen can look up to the leaders and know they have someone who can help them throughout the school year.
When a new student enters a bigger school, the process of changing can be extremely stressful.
Luckily, the Link Crew has events for the freshmen, so they can meet new people and have fun at the same time.
"The relationships I've made with the freshmen and my other link crew leaders [has been my favorite thing while being a leader]," said Roberts. "We've had a lot of fun events [throughout the year]."
The new leaders will be announced in two to three weeks, depending on the time of interviews being completed.
About the Writer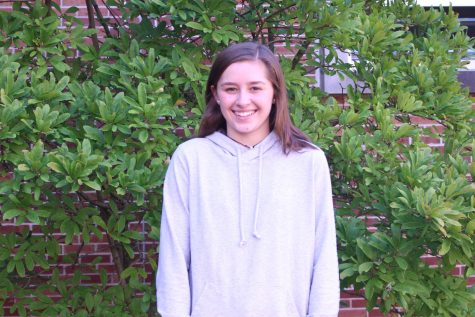 Mackenzie Womack, Sports Editor
Sophomore Mackenzie Womack is the Sports Editor for the Courier. She has been on the staff for the past two years. She is most excited about helping other...