Tom Laure Receives "Excellence in Education" Award by the YADSA
Hang on for a minute...we're trying to find some more stories you might like.
Life skills teacher and Student Council co-advisor Tom Laure was awarded the "Excellence in Education" award by the York Area Down Syndrome Association on March 23.
The York Area Down Syndrome Association (YADSA) is a nonprofit organization with the goal of providing support for children and adults with Down syndrome.
Both the life skills program and YADSA have similar goals – to encourage independence and acceptance and to provide education about those with mental disabilities.
During his 24 years in the district, Laure's mission has been to prepare students for life after they leave Susquehannock by providing job training at local businesses and a positive classroom environment.
"My number one goal is to have them set up so that when they exit school, there is a transition plan in place for them, which often means coordinating with community agencies that serve adults with disabilities…," said Laure. "So how to achieve that is to give them community experiences so that they are comfortable in the community working, and classroom experiences that engage them and increase their independence."
Teaching Assistant Toni Shearer has worked with Laure for 19 years, traveling to job training with students and helping to execute the special education curriculum.
"He [Laure] brings out the best in the students, not only in the classroom, but in the school and the community," said Shearer. "He also works really hard to find the programs that match up to their [students'] needs. He works well with all the agencies and all the parents to make sure that there's the best plan possible for when they graduate."
Bruce Duncan, a parent who works on the YADSA board, nominated Laure for the award.
The organization reviewed nominations and chose a handful of winners across York County.
"I was nominated by Kasey Duncan's father who serves on the board for the York Area Down Syndrome Association," said Laure. "So what they do within their organization is they have their folks come back with nominations and then as a board and as an organization, they talk about those nominations… There were probably five recipients across York County – administrators and teachers – that were given the award."
Laure attributes this award to the team of special education support staff who help to keep the life skills program running smoothly.
"To me, it's an honor; it's a program award. In our classroom I have a lot of support staff that work with me and for me, and because I get pulled in so many different directions, often my support staff are the ones that are keeping things afloat as far as our program goes," said Laure. "So, I don't consider it a sole award on myself, as much as a program recognition."
Laure truly creates a lasting impact on the students in his class, guiding them towards a successful future after school.
About the Writer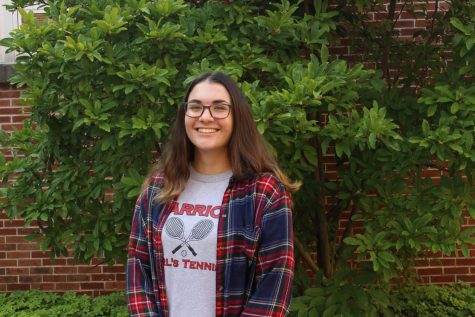 Mia Kobylski, Editor-in-Chief
Senior Mia Kobylski has been on the Courier staff for three years. She plays on the varsity tennis team and participates in Best Buds, Student Council,...