Susquehannock Dominates the PA Media and Design Competition
Two Susquehannock students found success while competing in the PA Media and Design Competition on March 20.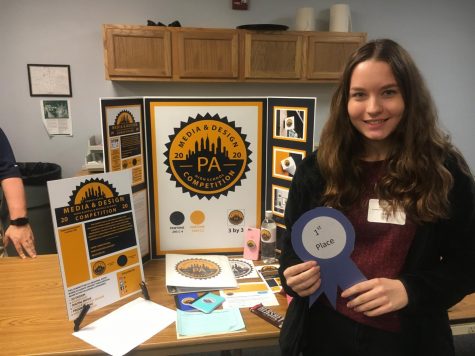 Senior Leah Miller and junior Max Minear were entered in the logo design category.
Minear designed his logo through a multi-step process.
"We had to create a logo and design for the design contest that also incorporated themes of PA," said Minear. "You wanted to have a really well rounded and clean design with lots of reference material, sketches and thumbnails."
Both Miller and Minear worked hard on their projects in order to  complete them.
"We probably worked on it for two to three weeks but because of the snow days we kind of had to work on it whenever we got a chance," said Miller. "I would come in during other periods to work on it because I wanted to make sure I got it done."
The students competed against schools throughout York and Adams counties.
Miller ended up placing first in the contest, and Minear placed second.
Minear was inspired by technology.
"I looked old designs from the past and decided I wanted to slightly incorporate technology into mine because I thought it represented the fair much more," said Minear. "The fair was not just about design. There was also technology, animation and 3D printing."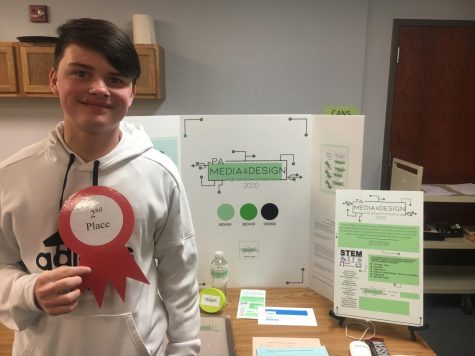 Both Miller and Minear were happy with their projects and were surprised to find how well they did.
"I was definitely surprised," said Miller. "I had never done anything like this before, and it was not what I was expecting."
Graphic design teacher Wade Bowers provided support for the two students and oversaw the production.
"I was very excited because I think these two students really work hard," said Bowers. "I have seen both these students put a lot of hours in. So for me it's kind of like that proud teacher moment where you get to see the students get that recognition for all the hard work they put in."
Miller will move on to the state competition at Dickinson College on May 21.
About the Writer
Trevor Leuba, News Editor
Senior Trevor Leuba is the News editor for the Courier. This is his first year on the staff, and he participates in swimming, Link Crew, and Tech Shed....