Marching Band Drums Up Some Fun at Universal Studios
The marching band went on a five-day trip to Orlando, Florida to visit Universal Studios on Feb. 13-17, 2019.
Senior Mei Tomko enjoyed the trip and the activities they went on.
"I really liked how each day we had a lot of time in the park, and we were given the option to choose whether we wanted to go to the water-park or the section with the roller coasters," said Tomko.
The trip was not just about riding roller coasters; the band students all attended a workshop where they learned how scores for movies were made.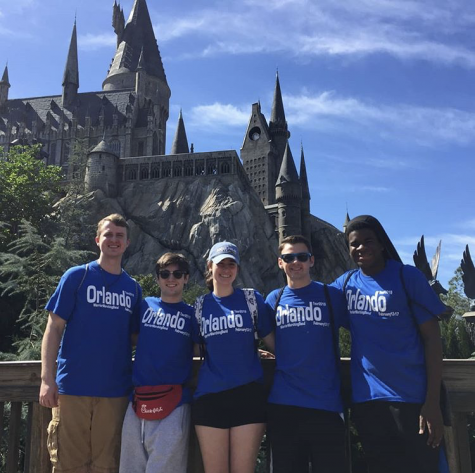 Senior Collin Addotta explains the activities they did at the workshop.
"We got to go into a professional setting where you record music for a soundtrack," said Addotta. "We did an entire overlay from a three minute clip from 'Despicable Me 2.'"
Tomko describes what she gained from the seminar.
"I liked how with the work shop we got a glimpse into how an animated movie gets recorded, and it really made me appreciate all the effort that goes into making an animated movie," said Tomko.
Not only was this a fun and unique experience for the marching band, but it was also the last time some of the seniors performed together.
Addotta put a lot of importance on this trip.
"The trip was really important to me because it was the last trip as a senior I am going to be going on," said Addotta. "It was the last time I can go with my friends in band and perform together as a marching band."
Senior Alex Walmer felt really good about their performance.
"Playing in the parade was my favorite memory by far," said Walmer. "The entire experience was just so good. So many people came out to support just us. After going through the whole band trip, that was the perfect thing to top it off."
While this is the last marching band performance, concert band still has work to do.
You can listen to the concert band perform at their last concert in the spring.
About the Writer
Trevor Leuba, News Editor
Senior Trevor Leuba is the News editor for the Courier. This is his first year on the staff, and he participates in swimming, Link Crew, and Tech Shed....