Track Sprints Towards Their Upcoming Season
Hang on for a minute...we're trying to find some more stories you might like.
Boys and girls track teams are sprinting into their preseason workouts to prepare athletes for the spring season.
Runners, jumpers and throwers are grouped together for specialized training based on their events.
The coaches, such as head coach and math teacher J.C Lewis, work with each type of athlete to build basic skills and proper form.
"Our preseason is broken into two parts – we have a preseason now, in terms of our winter workouts, where we're focusing on conditioning and strength, flexibility, balance, coordination," said Lewis. "As we move closer and closer to our season, and get into the actual start of the preseason, we'll gear workouts more towards events, start to work on that conditioning part depending on what events you're running and always focusing on form. Whether it's throwing form, pole vault form, running form and making sure we have those basics down."
There are many diverse events in track that people may not be aware of, and Lewis would like students to know that there is a place for every type of athlete.
"Our team continues to grow. We'll probably have more people on the team than we did last year… last year we had about 115 members strong, so that's a lot of track athletes on the track at one time," said Lewis.
Senior Allison Rodgers started track her freshman year and likes how members have flexibility in regards to what they want to compete in.
"I pole vault, and I chose pole vaulting freshman year because I wanted to change something, because I always just ran," said Rodgers. "It's a great sport to do because no one gets cut, and you can do basically whatever you want, you can try everything…"
Lewis believes that if athletes attend preseason, they are ready for the high level of competition that comes with the regular season.
His goal is for the team to hopefully win a division title, but also to put their best foot forward with experienced young talent.
"Well track is a fun sport because you can always improve individually, but then improve as a team as well… Ultimately, we're getting closer and closer to a division title, and I think that's kind of where the expectation lies," said Lewis. "I'm really excited about this season. We bring back a lot of talent both on the boys and girls side [from] previous years, maybe freshman or sophomore talent, that are coming back with a little experience."
Athletes, both individually and as a team, have goals for the season.
Individuals strive to gain PRs, or "personal records," throughout the season by running faster, throwing farther and jumping higher.
Senior Leigha Brown believes that conditioning before the season can help make these goals a reality.
"[Preseason] just makes it easier once you get into the actual season if you're already in shape and just ready to start rolling," said Brown.
Rodgers sees that people perform better after attending preseason, as sometimes people don't focus on track outside of the regular season.
"It helps a lot with just getting everyone into shape because a lot of people don't do much with track not during the season… and it gets everyone ready for competing," said Rodgers.
Lewis would encourage anybody who would like to try track to join, as it really is a sport for
everyone.
"Come out and join us – it's a lot of fun! We are experts at finding a place for you if you're an athlete," said Lewis.
Preseason winter workouts for throwers, sprinters and jumpers are held each week on Monday, Tuesday and Thursday from 3 – 4:30 p.m.  
Middle and long distance runners have workouts most days after school throughout the winter.
About the Writer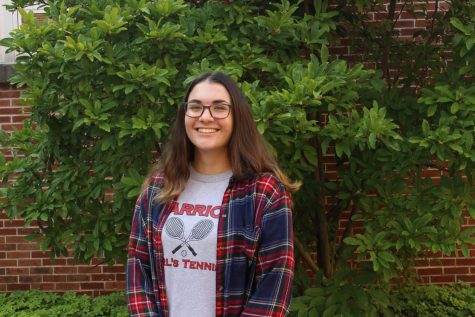 Mia Kobylski, Editor-in-Chief
Senior Mia Kobylski has been on the Courier staff for three years. She plays on the varsity tennis team and participates in Best Buds, Student Council,...