Students Selected for District Orchestra and Band
By Anna Feild, Arts & Entertainment/Features Editor
December 18, 2018
Fifteen band and orchestra students traveled to Eastern York High School to audition for the PMEA District 7 Orchestra and Band on Dec. 1, 2018.
Seven orchestra students auditioned for the ensemble: freshmen Zack Sharkey and James Davidson on bass, sophomore Justin Miller on cello, juniors Coleman Bongardt on violin, Annie Hebel on viola, Matthew Ware on cello and senior Lindsey Snyder on violin.
Of this group, Hebel and Sharkey were selected to participate in the orchestra with Hebel placing seventh out of 41 violas and Sharkey placing sixth out of 26 basses.
This is Hebel's third time auditioning for this ensemble and her second time being chosen to participate in it.
Hebel felt more assured and relaxed going into auditions this year compared to the past two years.
"This year I was a lot more confident," said Hebel. "Freshman year, I didn't expect to make it at all. It was really a surprise that I did make it. My sophomore year, I over-prepared essentially, which sounds weird but I practiced so much that I just freaked myself out before my audition, so I had a bad audition and didn't make it. But then this year, I was like 'you know, whatever happens happens – if I make it, cool, if I don't, no biggie,' so I was really calm in my audition."
In addition to the orchestra students, eight band students auditioned for a spot in the PMEA District 7 Band.
These students consisted of freshman Josh Rutters on tenor sax; sophomore Owen Mechling on tuba; juniors Kayla Ellison on clarinet and Lucas Schwanke on basson; and seniors Josh Alwine on trumpet, Aaron Gibbs on trumpet and Matt Mussmacher on euphonium.
Of these students, Schwanke placed in the band as the first bassoon, and Roberts placed as the third trumpet.
After auditioning last year and not being selected, Roberts had a new sense of motivation instilled in him.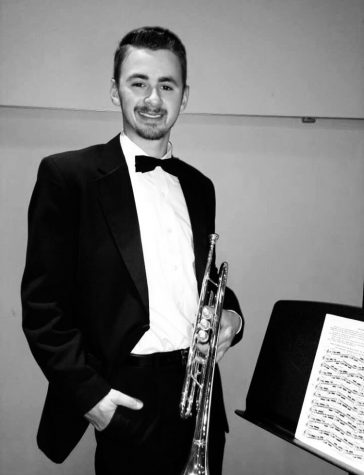 "This year, I really spent a lot of time focusing on the music, preparing the music," said Roberts. "After I didn't make it last year, it kind of created an inspiration to make it, so I'm excited for the new season."
As someone who has auditioned and participated in the ensemble before, Schwanke felt less nervous this year due to the smaller amount of people auditioning on his instrument.
"It was a lot less stressful because there were a lot less bassoons; in previous years, it's been 10 or 12 of us, but this year it was only six or seven, so there was less competition," said Schwanke.
All of the students feel as they can apply what they learn at these festivals to better the school band and orchestra.
"I'm towards the front of my section, which is really cool because that gives me the ability to really perfect my music and potentially either move up and make [Regional Orchestra], or even just perform well where I am…" said Hebel. "Everyone in this orchestra is a phenomenal leader in the music community, so it's really cool to be able to learn musically from each other, and then you can transfer that to leadership in the school orchestra."
Schwanke feels that he can take what he learns from the guest conductor of the band and apply that to what school band director Christian Poole teaches.
"At these festivals, we have a lot of guest conductors that share a lot more insight and different perspectives than what we would receive at our ensembles here, and so it's kind of cool to take some of their ideas and some of his ideas and make everything kind of come together," said Schwanke.
Poole also hopes that the students who auditioned can take what they learned by auditioning and apply it to the school ensembles.
"If they make the group, then they get a chance to play some challenging music," said Poole. "If not, then they worked on an audition piece that's very challenging and sets them up for the next thing they do."
The PMEA District 7 Orchestra Festival will be held Jan. 10-12 at Central Dauphin High School, and the PMEA District 7 Band Festival will be held Jan. 25-26 at Lancaster Mennonite High School.
About the Contributor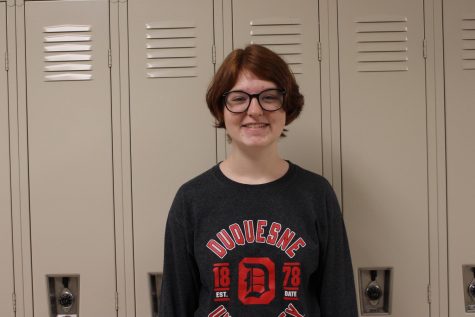 Anna Feild, Arts & Entertainment/Features Editor
Senior Anna Feild is the Arts & Entertainment/Features editor this year. She is excited to help fellow Courier staff members while also working on...