Project E.L.V.E.S. Help Families In Need
The holiday season is upon us.
Though for most it is a joyous time to spread love and cheer, there are many underprivileged families that worry how they'll give their children the holiday they deserve.
This year, these families are getting help from Student Council in the form of the Project E.L.V.E.S. program.
The acronym stands for "Everybody Loves Volunteering Especially Santa" ; however, the program is not exclusive to Christian families.
Student Council has been helping Southern Community Services and the YMCA with their "Adopt a Family" type program called Project Elves.
"Student council has been running it for about four years," said McCullough.
Instead of adopting individual families, student council will be collecting a mass amount of donations and then bringing them to Southern Community Services.
The goal of Project E.L.V.E.S. is simple.
"It looks to provide families, particularly children in our community with necessities and wish list items," said McCullough.
Senior Mia Kobylski is the committee leader tasked with organizing the project.
"We go through and create a generic list of all the sizes and genders, and that's how we decide what students will have to donate," said Kobylski.
Student council set up a holiday tree on Nov. 5, and students and staff can pick ornaments that are labeled with different presents. The items can range from clothing, mittens or gloves, stuffed animals or board games.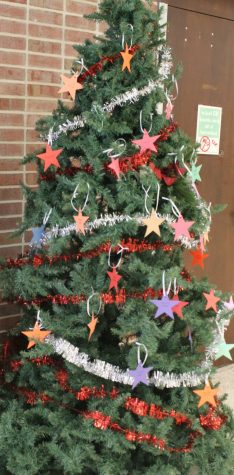 Gifts donated should not be wrapped and can be brought to room 207.
Student council will also be accepting monetary donations and are planning to make it a competition between the classes to encourage student participation.
Kobylski explains why the students should strive to be the winning grade level.
"The grade level who raises the most money will get a hot chocolate social before Christmas break begins," said Kobylski.
Programs such as Toys for Tots, The Salvation Army's Angel Tree program and Project Elves truly make
a difference to kids during the holiday season.
Student council will stop accepting donations Nov. 30.
For further information, see senior Mia Kobylski, Jill Platts or student council adviser Kellin McCullough.