"A Star Is Born" Captivates Audiences Again with Newest Remake
**Warning: spoilers ahead!**
Superstar Lady Gaga (Stefani Germanotta) and heartthrob actor Bradley Cooper captivate audiences in their new movie "A Star Is Born."
Produced and directed by Cooper, the movie follows the story of a young artist named Ally (Germanotta) and her relationship with singer Jackson Maine (Cooper).
The two fall in love, get married and share their passion for singing.
However, Maine's addiction with drugs and alcohol strains his relationships with Ally and his family, sending his career into a downwards spiral.
As Ally gains newfound fame by performing alongside Maine, her public image and style of music changes, becoming more mainstream and produced.
This is hard for Maine to see because he feels his wife has lost her true identity.
Because of this, his struggle with addiction gets worse, and he has suicidal thoughts in the last scenes of the film.
Originally released in 1937, the movie has remakes from 1954, 1976 and the most recent adaptation in 2018.
The timeless film has been hailed for its exposure of women in the music industry.
In the original and past remakes, the male protagonist is driven to alcoholism due to the female protagonist's greater success.
However, in the 2018 adaptation, the usual storyline is changed to reflect more modern attitudes towards gender roles.
In addition to the twisted gender dynamics, the film is a stark criticism on the influence of popular culture in individuals' lives.
Throughout the story's 80 year history, popular culture has definitely undergone changes.
Cooper's film features social media influence, television exposure and updated music technology.
All of these outside influences that change Ally's viewpoints and style of music go to show how people are susceptible to mainstream media.
In an article from Vanity Fair, producer Bill Gerber explains how the dynamics are different in the most recent remake.
"The difference between Jack and the other guys is, he doesn't resent her success whatsoever," said Gerber. "He's upset that she's not being true to her voice, and what he fell in love with, and the kind of music she wanted to create. It's her pop turn that starts the rift between them, not her success."
Not only the visual appeal of the movie has captivated audiences.
The hit song "Shallow" from the soundtrack is already topping the charts, which is a familiar feeling for music icon Germanotta.
Since the movie's release on Oct. 5, it has already grossed over 150 million dollars and sits at a solid 90% on Rotten Tomatoes.
In an article by Mark Hughes for Forbes, there is already talk of Oscar nominations and a possible "Best Picture" win.
".. it's among the first big releases aiming for many above-the-line Oscar nominations; it has strong media and review buzz that it is a strong contender to actually win a lot of awards and looks like an inevitable Best Picture nominee; it has some fantastic musical numbers that assure attention; Lady Gaga's popularity; it has a great female lead character with a remarkable performance from a beloved star; Bradley Cooper…," wrote Hughes.
"A Star is Born" is still playing in theaters and fans can find the soundtrack anywhere music can be purchased or downloaded.
About the Writer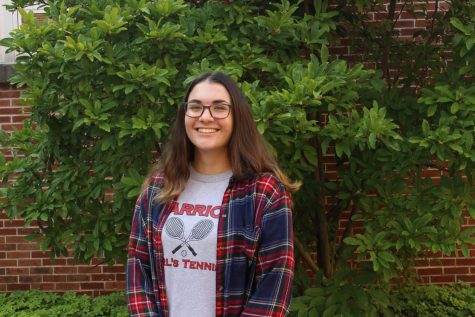 Mia Kobylski, Editor-in-Chief
Senior Mia Kobylski has been on the Courier staff for three years. She plays on the varsity tennis team and participates in Best Buds, Student Council,...