Marching Band Gets Ready for Cavalcade of Bands
The marching band is preparing for the esteemed state wide competition – Cavalcade of Bands.
This season, the band has been practicing heavily since August and hopes to show off their hard work at this competition.
Band director Christian Poole has attended three Cavalcades in the Liberty Division.
Past Cavalcades have resulted in success, and this coming one appears to follow suit.
"We're undefeated so far. We have the highest score out of all the bands participating in Liberty, so we're doing well and we want to keep that up this weekend," said Poole.  
The show this year is different from past ones as well.
"This year's show is more melodic. It has more melodies that you might remember. And it also has more cervalinear or curvature to the drill that we're marching," said Poole.  
The process of getting ready for the competitions, especially Cavalcades, is not an easy feat, and it takes place at every practice.
Tenor Saxophone player junior Cassidy Bolio has been in the marching band for four years and has put a lot of effort into improving as a musician.
"We probably spend [the first third of the practice] running drill, and then the second third focusing on music, and then the third third, we put it together and we chunk through the show, which is what we call it when we break it into separate parts and then we run them, and then we run it as a whole," said Bolio.
Bass Drummer junior Rohit Kandala also spends time working on making the show the best it can be.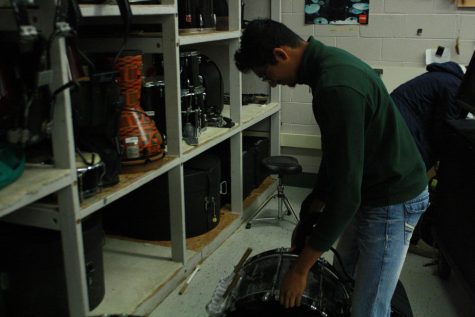 "I run through the entire show in my head… I just focus on what has to be done to make sure that I'm doing like the right stuff in the right timing, [and] to make sure that I look well rounded to make sure the show fits and that I fit in the show," said Kandala.
Other than the preparation for shows, there are parts that the members really enjoy.
Bolio's favorite part about being in the band is getting to display the band's work in games and competitions.
Along with the performances, Kandala loves how the band forms tight relationships.
"It's basically a really big family. It's like another family I can talk to and hang out with," said Kandala.
At Cavalcade, Susky can expect to face tough opponents, including rival New Oxford.
However, the band is not going to back down from a challenge.
"I think the marching band, as long as we can stay clean and continue to improve how neat our drill is, and how together our sound is, we will do very well at Cavalcade," said Bolio.