Students Explore Career Opportunities at Crescent Industries
Students visited Crescent Industries in New Freedom during the factory's first ever manufacturing week on Oct. 4.
Crescent Industries is a manufacturing company that uses injection molding to create various different products.
They invited students from schools all over York County to view their two injection molding facilities and to inspire future manufacturers to join their company.
Technology education teacher Jack Stoneberg accompanied the students on the trip.
"They put us in a room…gave us a little overview of what they were doing first ever manufacturing week," said Stoneberg. "Then we got to go out and tour the plant and actually watch them making different things. One of the things we got to see that they were making was the little plastic things that actually go onto root canals."
Participants were shown the buildings, machinery and programming used to create plastic items.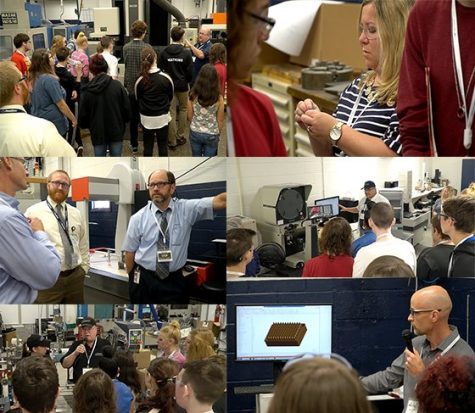 Freshman Jillian Bolio enjoyed getting a glimpse of what goes into creating a product.
"My favorite part of all the jobs that they showed us was designing the mold," said Bolio. "They showed how you go on CAD, you make sure it works and they have certain softwares where it can run a test to see how it would [work] if you were actually using that mold. They go through a lot of make sure it is effective and it will stay effective after a million uses."
In addition to witnessing the process of manufacturing, Bolio discovered the different educational backgrounds of the employees.
"I…learned that even if you don't always want to go to college, or if you don't get more education you can still have a good job," said Bolio. "Because there are people [at Crescent Industries] who have gone to just high school and there are people who had gone to Penn State and they had the same level jobs."
Sophomore John Shelley realized the importance of Crescent Industries not only for the products they make, but also as an employer.
"Almost everything we have that's made using plastic is made using injection molding which is really important for us," said Shelley. "As well as that it is a really good career opportunity for those who looking into the manufacturing field."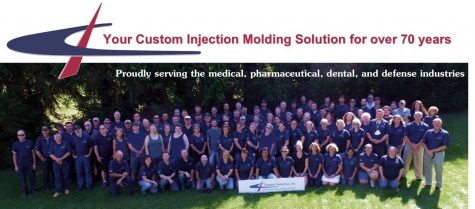 Stoneberg believes the trip was an excellent example of what occurs at a manufacturing plant.
"What I was hoping for is that [the students] actually see what they do there, so if they have any aspirations of going into the machining area what it actually encompasses," said Stoneberg. "I think they thought it was much different, like a dirtier area. It's not like that at all. These are $100,000 to a million dollars pieces of equipment and they're very clean…You're not really a machinist there, you're a computer programmer for the most part. You can make very, very good living doing those jobs, and they're local, and they're looking for our kids."
About the Contributor
Ally Waltemyer, Commentary Editor
Senior Ally Waltemyer is the commentary editor for the Courier this year. This is her second year on the staff and she is excited to write, help with...