School Sponsored 'Stalking': An Adventure in Observation
Hang on for a minute...we're trying to find some more stories you might like.
A stigma associated with Walmart is there are all types of interesting people who shop there, which quickly proved to be true.
Hiding behind seasonal displays of pumpkin carvings, festive decorations and rows of Halloween candy, my groupmate and I watched people pass by going about their daily shopping routines last week as a member of a Think Tank course activity.
However, it was people who didn't seem to be in their daily routine that stood out the most.
The first people we watched for a period of time was a mother and her middle school-aged daughter.
The mother was dressed very well with a designer purse and high heels; however, the daughter opted for a more casual look with leggings and dirty sneakers.
The stark contrast between outward appearances alone was enough to catch our attention.
They continued to hurry through the store and actually left for a period of time, returning to purchase a single miniature-sized McCormick spice jar.
Secondly, we followed a middle-aged woman who seemed to have just come from a workout.
We tracked her to the homegoods section where she spent a significant amount of time picking out sheets.
As she made her selections, she started singing along to music she had playing through headphones and was smiling the whole time, leading us to believe that she was genuinely happy in that moment.
The next individual we found was an elderly lady who was slowly meandering her way through the cheese and lunch meat section.
We predicted she was making sandwiches, and we were validated as she went to the bread aisle next.
She painstakingly decided what bread she wanted, and finally settled on some tortillas for wraps.
Consulting her shopping list, she moved to produce where she felt the need to touch every piece of fruit and every vegetable she even entertained the thought of buying.
This is when we left Walmart and headed to Big Apple Bagels for some hot drinks.
There we had the pleasure of sitting down next to a man who was intensely scribbling in a journal.
We observed that every entry was date and time stamped, and we only figured he was writing about us, as he's the only one who caught us watching him.
It was a mutual encounter of stalking, both people taking notes on the other.
Overall, it was an interesting experience to observe people in unconstructed scenarios.
Especially when encountering the mutual stalker at Big Apple Bagels, we realized how eye opening it can be to see what is going on in the world around you.  
In a place where people are caught up in their own head, it was enjoyable to connect with others; although, they had no idea we were watching.
About the Writer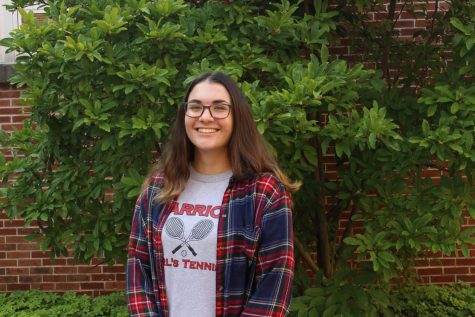 Mia Kobylski, Editor-in-Chief
Senior Mia Kobylski has been on the Courier staff for three years. She plays on the varsity tennis team and participates in Best Buds, Student Council,...