Mia Eckels has Shot at Winter Olympics
Sophomore Mia Eckels aims for the Olympics as she competes within the U.S. Figure Skating qualification pipeline this week.
Currently second in our region (from Pennsylvania to Florida), Eckels will skate in the Novice Ladies Free Skate event at the 2019 South Atlantic Regional Figure Skating Championships in Coral Springs, Florida from October 3-6.
The novice level is the third of five competitive levels within the U.S. Figure Skating's qualifying pipeline.
If Eckels finishes in the top four at these championships, she will get the chance to compete at the 2019 Eastern Sectional Figure Skating Championships in Wake Forest, North Carolina from November 13 through the 17.
A top-four finish for Eckels at the championships would secure her a place at the 2019 U.S. Figure Skating Championships in Detroit, Michigan from January 18- 27 of next year.
From there, Eckels could eventually land herself a place in future Winter Olympics.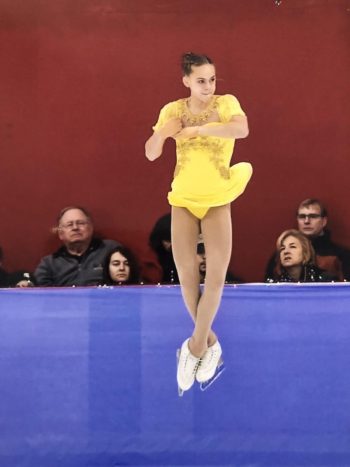 Eckels is a figure skater who has been skating for six years and has been practicing for these competitions for multiple weeks.
"To prepare for this event, I have been training almost everyday, except for one day, and I have been running my programs a lot to build up my endurance even further," said Eckels. "Also, I have been doing workouts that consist of running, core, and legs to make myself stronger."
A figure skater, just like any other professional sport, must work and practice for several hours of the day, multiple days a week.
"Normally, an average week for me starts off by either leaving school at 10:30 or 11:30 a.m., depending on which rink I am skating at that day," said Eckels. "If I leave at 10:30, I go to the Patriot Ice Center in Delaware and train for about three and a half hours. Most of the time I only go there 3 days a week due to how far away it is, and the other days I skate at Ice World in Maryland,and I skate for three hours. I skate six days a week plus off-ice training after skating, so I skate about 20 ish hours a week."
Eckels gives advice for aspiring figure skaters.
"…just keep pushing yourselves and [strive] to do better each and everyday," said Eckels.