Kaepernick's Nike Ad Makes Headlines
Basketball Hoops via YouTube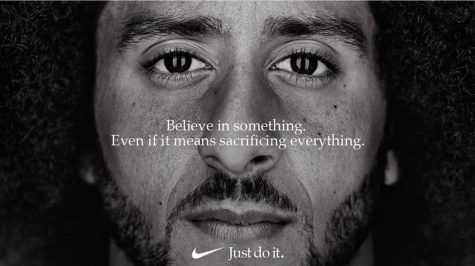 Former San Francisco 49er quarterback Colin Kaepernick has been the center of controversy for a long time due to protesting by kneeling during the National Anthem.
Kaepernick lost his job in the National Football League since the protest against police brutality during the 2016 NFL season. Recently, Kaepernick has made headlines by suing the NFL and accusing them of colluding against him. As of late,   Kaepernick's face has appeared on Nike's 30th-anniversary campaign.
This turned heads and was extremely controversial because of Kaepernick's protest.
President Donald Trump is undoubtedly against Kaepernick. "There's no reason for Nike to use Kaepernick in its marketing campaign," said Trump in The Daily Caller article. "But I think it's a terrible message that they're sending and the purpose of them doing it, maybe there's a reason for them doing it. But I think as far as sending a message, I think it's a terrible message and a message that shouldn't be sent. There's no reason for it."  
The ad has received mixed reviews with the likes of star golfer Tiger Woods calling the ad a "beautiful spot."
It does not just stop there.
Actress Jenifer Lewis supported Kaepernick at the Emmy Awards by wearing a Nike outfit on the red carpet.
There are two different sides of the spectrum undoubtedly.
One side's vision is that the former quarterback is disrespecting American soldiers and police officers, and there is definitely an argument to this opinion.
However, Kaepernick is committing a rightful, peaceful protest, even while there are definitely positives and negatives to his viewpoint.
Kaepernick has lost his job in the NFL, and hopefully, Kaepernick and his naysayers can come to a compromise.