Dallstown Spring Shorts Festival Showcases Student-Made Films
Hang on for a minute...we're trying to find some more stories you might like.
A crowd of students, filmmakers and teachers filed into the Dallastown High School auditorium for a night of viewing student-made short films on Thursday, May 17.
The occasion was the 10th annual Spring Short Festival, presented by the Dallastown Video Production Club.
High schoolers from Dallastown, Central and Susquehannock submitted films, as well as junior-high students and alumni.
The goal of the festival is to recognize digital media, screenplay writing and studio production.
Three judges were tasked with awarding prizes to the best films in categories ranging from "Most Inspirational," to "Best Directing," to "Best Acting."
The judges all have personal experience in the digital media industry in areas such as broadcasting and radio announcing.
Submissions ranged from comedy, to animation, to inspirational feature packages.
Videos showcasing topics such as texting while driving, LGBT advocacy in schools and mental health showed how filmmaking can raise awareness about controversial topics.
More lighthearted pieces featured the horrors of back-to-school time, a cardboard cutout of Ron Burgundy and space adventures.
Although the films were made by students, the editing looked professional and the storylines were well thought out.
The creativity was not lacking as the audience was engaged the whole time, and the use of music and comedic timing kept both children and adults laughing.
At the end of the evening, the audience voted for the "Audience Choice" award, which went to Susquehannock senior Matthew Schiffbauer for his piece entitled "My Lovely Ron."
The awards were given as follows:
Best Junior High Entry – "Parkinson's Affects Everyone"  – Max Saffell (Dallastown HS)
Best Alumni Entry – "Fore" – Matt Brosey (Alumni)
Best Animation – "Thorpolians: A Loyal Crew" – Michael Raucci (Dallastown HS)
Best Acting – "Welcome Back" – Wyatt Cuculis (Dallastown HS)
Best Visual Effects – "Extraordinary" – Ryan Craig (Dallastown HS)
Best Sound Design – "Peeks" – Edward Mattiko (Dallastown HS)
Originality – "Communication" – Wyatt Cuculis (Dallastown HS)
Most Inspirational – "We Persevere" – Kayla Blake (Dallastown HS)
Best Story / Writing – "My Lovely Ron" – Matthew Schiffbauer (Susquehannock HS)
Best Use of Music – "Communication" – Wyatt Cuculis (Dallastown HS)
Best Directing – "All Around Us" – William Cuculis (Dallastown HS)
Best Documentary – "Dallastown's Newest Entrepreneur" – Brooke Schwartz (Dallastown HS)
Best Cinematography – "All Around Us" – William Cuculis (Dallastown HS)
Best Editing – "Matt" – Alexander Tolerico (Dallastown HS)
Best of Festival – "Communication" – Wyatt Cuculis (Dallastown HS)
Audience Choice – "My Lovely Ron" – Matthew Schiffbauer (Susquehannock HS)

About the Writer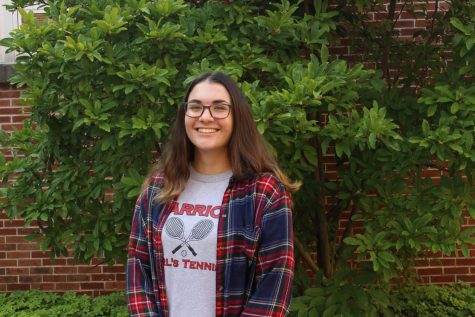 Mia Kobylski, Editor-in-Chief