Why Schools Need to Take Action on Mental Illnesses
For 69 years, May has been recognized nationwide as Mental Health Awareness month.
Since 1949, Mental Health America and other organizations have worked to spread awareness about mental health. As a teenager myself, I can list dozens of stories I have heard and read, including personal stories, about students struggling with mental health, from bullying to suicide.
For many years, and even sometimes now,  mental illnesses are treated as taboo with people holding the attitude  that because one cannot see mental illnesses the way one can a physical injury, than they must not really exist.
But now, we are living in a world that is finally fighting to show the true impact of mental illness, most importantly in teens.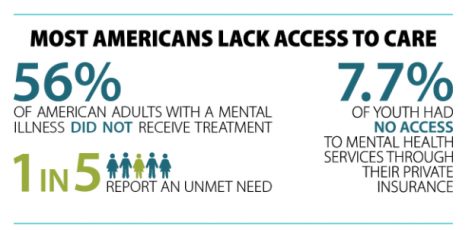 An international study found that an average of 17 percent of youth experience a mental, emotional, or behavioral disorder of some kind.
In 2015, 8.2 percent of youth suffered from severe depression, and that percent is rising each year.
Over 1.7 million youth with major depressive episodes are not receiving treatment.
With these statistics, you would think that schools would begin to step in, take initiative and begin to discuss it.
But that is not the case.
It seems that mental health is currently the topic of one big blame-game from teachers, to parents, to administration.
Some students are lucky enough to get help from their families who understand mental illness or have dealt with it themselves, but not all are that lucky.
Many families simply do not know what to look for in their child to see whether they are going through a phase or suffering from something more serious.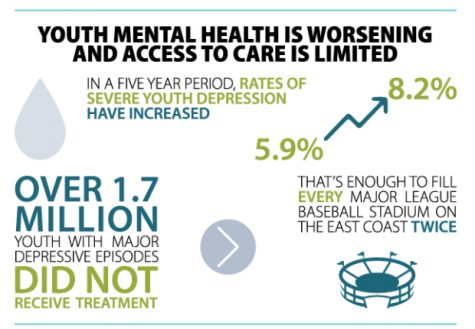 Teachers and principals, for the most part, are simply too busy to consistently help students out.
Nurses, counselors, social workers and special education teachers have the ability to help students the most, but, unfortunately, there are not enough of them, with most of these teachers covering hundreds of students alone.
So the question stands; who needs to step up and begin making a change?
It all has to begin in administration; set up programs, open up job positions, show how badly this affects students and how many students are affected, and make a change.
Then, it goes to the principal, counselors, social workers and special education teachers; make sure they are trained, and evenly distribute resources and the amount of work.
Finally, our teachers need to continue to build relationships with students; make sure your students know they can trust you, and attempt to get help for the students who need it.
High schools across the country, especially Susquehannock High School, are not perfect. But their main goal still collectively stands: to help their students.
Slowly, but surely, our students struggling with mental illness will begin to see that.