Track & Field is One Invitational Away from Counties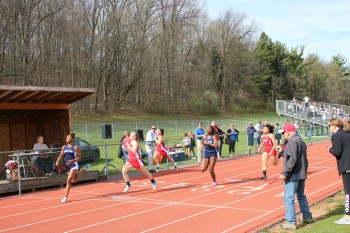 The track & field teams showed growth in the Dallastown Invitational held on Friday, April 27.
  There were a total of 16 schools involved in the event.
  50 of Susquehannock's 115 athletes qualified for this invitational, providing many the opportunity to give their best performances.
  Senior sprinter Jalen Fowler is proud of the turnout of the team.
  "I think it was a success, not just because people were medaling, and a lot of people did medal, and they did very good, but also we PRed a lot [achieved a lot of personal records], so we're improving on our times rather than just in comparison with all the other schools," said Fowler.
  Susquehannock placed eleven times over the course of the invitational, and 21 athletes achieved new personal records in their events.
 Math teacher and head coach JC Lewis commends the team for their improvements throughout the last two months of the season.
  "So far it's been a lot of fun. We've had some success. Both teams at this point are 3 and 3, boys and girls. We've had a lot of people have some really nice performances and get better as the season has gone on, and that's really in track and field all you can ask," said Lewis.
  Senior thrower Kate Burgess earned 2nd place in javelin and 3rd place in discus with a personal record of 107 ft 6 in.
  "[In] every single competition I'm not really competing against the people that are also in my event, I'm competing more against myself to get myself a better number because with track it's more of an individualized sport," said Burgess.
  Burgess finds that her pre-season strength and technique workouts contributed to her improvements this season, a discipline Coach Lewis firmly stands behind.
  "It's tough to improve performances just in the short season alone. . . a lot of the success of an athlete relies on how hard they work in the fall and in the winter to get stronger, to get faster and then hit the ground running once the season starts," said Lewis.
  The Warriors were victorious in their final meet on Tuesday, May 1 against Northeastern with the girls winning 77-73 and the boys 79-70.  
  51 athletes have the opportunity to perform in the Manchester Valley Invitation on Friday, May 4 before learning if they qualify for counties, which will be held at Dallastown on Friday, May 11.