Susquehannock Hosts Community Opioid Presentation
Susquehannock High School collaborated with the York Opioid Collaborative to present the "Not My Child, Not My Family" presentation on Monday, March 19.
The presentation was open to the public, and there was also a student-only presentation during class hours.
Three speakers, including former addict and Susquehannock alumni Mark McCullough, parents of former high school addict Chris and Jill Prevas, and clinical psychologist Kathleen Jansen presented at the event, covering topics from personal stories, to how to tell when someone is addicted, to the difference between using and abusing, to how to help those who are  addicted.

District Attendance Officer Jill Platts reflects on the important moments of the presentation.
"I think it was important to hear that drug abuse can touch anyone," said Platts,"It doesn't matter if you are a good student, an athlete, have strong family supports or what others would believe is all the privilege in the world…it can impact any of us.  The fact that 1/2 to 2/3 of us are most likely touched by addiction in some way stood out to me."
The RASE Project, Not One More, True North, Family First Health, and York/Adams Drug and Alcohol Commission were also present for families to learn more about the opioid epidemic, as well as provide wellcare and childcare, and how the community can volunteer.
Other main topics also focused on the manipulation tactics used by addicts and education on the opioid epidemic.
According to the presenters, 23 million Americans struggle with addiction, and another 22 million Americans are in recovery.
Presenter Mark McCullough believes that there are several reasons to talk about opioids to students.
"(It is important because) it raises awareness, first of all, especially in a community like this one, not many people like to talk about this stuff, so there's a fear of judgement which creates the stigma," said McCullough. "What that does is it only fuels the problem, it makes it harder for people to get insurance coverage that they need for treatment, it makes it harder for treatment centers to open up in the first place and then harder for people to recover because the resources they need won't be available to them, due to the stigma because it's real easy to say, 'hey, these people are personally responsible for this, so just let them die or let them fall on their heads.' The solution is exactly the opposite. Recovering people need to feel a sense of community and a sense of belonging to something greater than themselves. As a recovery coach, when I see that in their lives, recovery is easy for them at that point."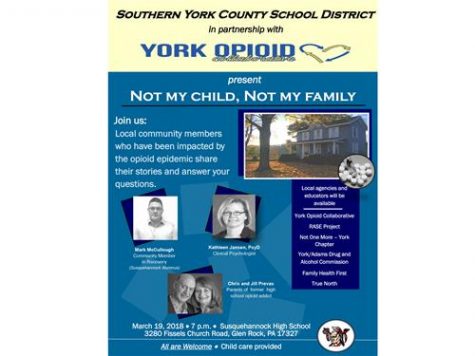 The main theme of the presentation, however, was to let people know that recovery is possible, help is out there, and it's not how much you take, but why you take, such as taking to mourn a family member or friend such as McCullough did.
Principal Kevin Molin explains how students can help themselves and others struggling with addiction.
"The biggest thing anyone can do is to seek assistance for themselves or others and not feel they have to do it themselves," said Molin. "There are professionals in the school and within the county who can provide the necessary help to end addiction."