'The Phantom of the Opera': A Majestic Musical
"The Phantom of the Opera" is one of Broadway's longest running classical musicals, starting in 1986.
(WARNING: Spoilers)
Full of chilling music, eerie special effects and a wonderful plot, the show  I attended was the night showing at the Majestic Theatre in New York City, directed by Jake Bell.
The very beginning of the show focuses on a giant chandelier that is going to be auctioned off, and the rest of the show is a flashback to this symbol  and why it is so significant.
Written by Andrew Lloyd Webber, the show revolves around the story of an opera house being haunted by a phantom (played by Peter Joback,).
The female lead, Christine (played by Ali Ewoldt), is the Phantom's love interest and has become a newly discovered opera star since she was visited by the Angel of Music.
As the practices for the opera go on in the opera house, mysterious happenings occur, including people going missing, chandeliers flashing, and murders.
This is all because the Phantom is not pleased with the show.
His desire is to have Christine be the lead in every show, but the favored star is Carlotta (played by Raquel Suarez Groden).
Soon Christine cannot handle the pressure and depends on Raoul (played by Rodney Ingram), and they fall deeply in love with each other.
The Phantom is outraged and demands that in the next show they use his own music score and cast Christine in the lead.
The Phantom, during their performance, kills the male lead and takes away Christine to his dungeon, but Raoul follows.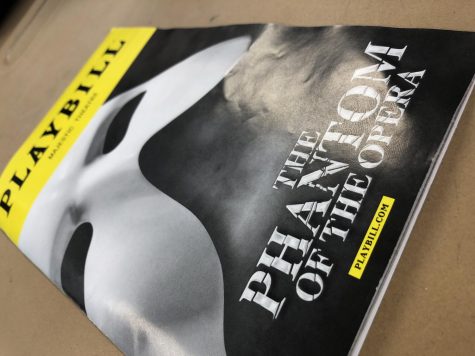 The Phantom captures Raoul, forcing Raoul and Christine to make a choice: stay with the Phantom forever or allow Raoul to die.
Christine tricks him and saves Raoul, and the Phantom is so full of anger and grief that all that is left at the very end of the musical is the well known white mask of the Phantom.
The most amazing and unique part of the performance was the chandelier that was raised from the stage to above the audience in the beginning- it was just spectacular.
Even after 32 years, this show still deserves a standing ovation and will have everyone singing, "The Phantom of Opera is here."