Students Sing at PMEA Regional Festival
Hang on for a minute...we're trying to find some more stories you might like.
Senior Brendan Paules and junior Daniel Poole traveled to the PMEA Region V Chorus Festival in Lebanon County on March 1 and 3.
Choir director Jay Althouse described the festival as very energetic.
"It's very lively. The kids are really excited, and there's a lot of energy, a lot of nervous energy the first day but beyond that just a lot of excitement for the kids. The directors are excited for their students. It's a three day festival, a lot of rehearsing, but other than that it's just a lot of excitement," said Althouse.
Paules and Poole didn't move on, as Paules was already in an Allstate Jazz Festival and Poole did not advance to allstate.
Althouse believes they both had good chances of making it into the allstate festival.  
"I think they both had excellent shots. You don't know what the audition spots will be going into it, so you have to make assumptions. This time we had to learn six songs in two weeks to audition, we kind of had to pick and choose," said Althouse. "Brendan already made all state vocal jazz so he couldn't move on, but Dan had a good shot, unfortunately, like I said, we made some wrong guesses so we didn't work so much on the other [music pieces] and we don't know what his final score was but we know he didn't get in."
Only six people from Poole's voice part, bass, moved on.
Althouse sees the difficulty in moving upward in the competition's ranks.
"When you move onto regional chorus, you have 26 in your voice part, but only the top six move onto all state," said Althouse. "Plus, regionals combines two different districts together. You as district 7 know the singers really well, but now you're competing against singers you've never heard before so it makes it a little bit harder that way."
Poole explains how auditioning requires a lot of effort.
"It's not difficult. You just have to put the effort into it to get where you want to be. If you want to be able to place higher or want to be able to be in the festival, you have to put the work in," said Poole.  
Poole gained a lot of experience from the PMEA festival.
"I took a lot away from that festival. It helped me get a better perspective on how choirs work together, and I feel like it'll help me as a singer a lot more than just singing by myself," said Poole.
It was Paules's last festival, as he graduates this year.
"This was my seventh PMEA festival. I had been to regional choir last year and allstate the past couple of years. It's always interesting getting a new perspective on when you have a new conductor," said Paules. "Seeing the different ways they approach things and the way that maybe Mr. Althouse has taught it to us versus how they're teaching it to us is really cool."
Paules doesn't plan to go into a music career, but wants to keep music in his life.
"I don't plan on pursuing music as a career, but I definitely want to keep it in my life, and I have the two district jazz festivals left, and I love those, they're completely different, but I'm still really excited to do that, and hopefully still get involved in the community and probably in college with choir," said Paules.

About the Writer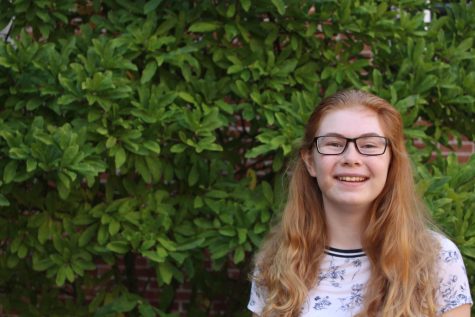 Reagan Gorham, Reporter
Freshman Reagan Gorham is excited to write for the Courier to explore the different avenues of journalistic writing. She also loves creative writing.