Waitress: A Beautiful, Comedic, and Raw Ode to Relationships and Love
The hit Broadway musical Waitress recently had a six-day run at the Hippodrome Theatre in Baltimore.
The musical focuses on a waitress named Jenna Hunterson (played by Desi Oakley,) who is desperately attempting to leave her abusive husband before her child is born, and, in an attempt to escape, Jenna begins an affair with her doctor, Dr. Pomatter (played by Bryan Fenkart.)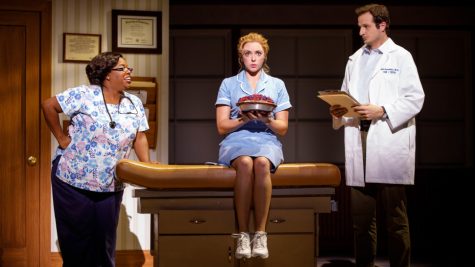 Jenna also works with two other waitresses named Becky (played by Charity Angel Dawson) and Dawn (played by Lenne Klingaman) who both struggle with their own relationship problems. Becky battles with an affair of her own, while Dawn attempts to find love for the first time.
At the beginning of the show, Jenna sings a song titled, "What Baking Can Do," which shows how Jenna uses baking to cope with her abuse, a technique that she learned from her mother.
In the song,"You Will Still Be Mine," Jenna and her husband, Earl (played by Nick Bailey) sing a song together that Earl wrote for Jenna in high school, showing the audience that abusive relationships can still seem to have happy moments.
Other songs like "I Love You Like a Table" and "Never Ever Getting Rid of Me" give a bittersweet ballad to newly-found love when Dawn finally meets a man named Ogie (played by Jeremy Morse) and falls head over heels for him.
The three girls sing a song titled, "A Soft Place to Land" describing how they escape from all their hardships in dreams, each girl illustrating her specific dream and how she copes.
The show features several other songs about the struggle of relationships, such as, "When He Sees Me," which defines the terror of stepping into new relationships, "I Didn't Plan It," a song about beginning affairs, and "You Matter to Me," which helps Jenna realize that she can be loved by somebody.
Although the show carries a very serious plot, the script is filled with humor on every page, from Dr. Pomatter's nurse (played by Maiesha McQueen) to the diner's owner, Joe (played by Larry Marshall,) who jokingly tease Jenna for her baking and her affair throughout the musical.
The show ends with Jenna's song, "Everything Changes" when her life finally falls into place with the birth of her child.
Waitress is rich with themes of friendships, faded love, and mother-daughter legacies.
While the show lacks in set design and a more serious ensemble, the emotional score and raw performances balance everything out.
Waitress opened at the Brooks Atkinson theatre in April 2016 and currently is running in New York, as well as on a national tour.
For more information and tickets, visit www.broadway.com/shows/waitress/