Susquehannock Hosts PMEA District 7 Choir
Susquehannock High School is hosting the 2018 PMEA District 7 Choir Festival from Thursday, January 25 to Saturday, January 27.
Susquehannock was selected to host District Choir after PMEA (Pennsylvania Music Educators Association) saw the effort that the district put in to hosting Middle School Songfest in 2015.
The annual festival will feature more than 200 students from over 60 high schools throughout Pennsylvania.
Senior Justin Feild has been doing miscellaneous duties to prepare for the big weekend and is excited to see a new choir perform together.
"It's a very different experience because you're not working with people you know, you kind of have to get that chemistry together in a very short amount of time…," said Feild. "So you get a whole new group of people in there together… It provides a whole new set of challenges, but they're such a talented group that it really comes together nicely."
PMEA is an organization that works with lawmakers to ensure access to quality music education in public schools.
Choral director Jay Althouse believes that a quality musical education is essential to students' academic performance and personal development.
"Music has just a profound way to touch people's lives and enrich them. It's proven that it helps with math and reading ability, even science ability. It's just proven that there's all these scientific benefits," said Althouse. "But also personal levels, people suffer from depression, but when they sing together in a group like this, with the number of kids on the stage, they are part of something bigger… It's just a really special connection that nothing else in this world has."
In order to participate in the festival, students received music to practice and auditioned in October at Central York High School.
If selected, the students rehearse on their own until two days before the concert, when all selected individuals practice as a group.
"They're going to be looking at putting a concert together of seven pieces… and they will come together for the first time as a group to sing on Friday morning. Just having an ensemble of 224 people is a hard enough job, but learning that music together, and it's a challenging repertoire…," said Althouse.
The students will be directed by Dr. Caron Daley, Director of Choral Activities and Assistant Professor of Music at Duquesne University.
Senior Brendan Paules has worked with many guest conductors in the past and enjoys being exposed to each individual's unique approach.
"…I've worked with a lot of guest conductors in the past, and it's always interesting to see their different side of things," said Paules. "So you work with Mr. Althouse every day, and he's an awesome teacher, but it's always interesting to get a new director's opinion on something, even if it's a different repertoire."
During the school day, the Auditorium Lobby will be closed to all students, and some classrooms will be occupied by the choir, however; the event will not impact the schedule.
Students and community members are welcomed to attend the concert on Saturday, January 27 at 5:00 p.m. in the auditorium.
The price is $5.00 for students and $8.00 for adults.
About the Writer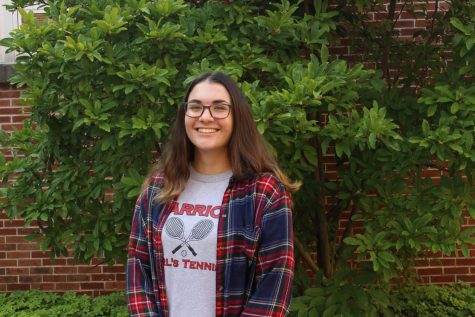 Mia Kobylski, Editor-in-Chief
Senior Mia Kobylski has been on the Courier staff for three years. She plays on the varsity tennis team and participates in Best Buds, Student Council,...