Students Create Winter Mural for Annual Art Show
Seniors Sammi Patterson and Stevie King recently completed a large mural as part of a local art contest.
Students from local high schools were given a challenge to paint a winter or holiday scene to be given to the Miller Plant Farm.
Each mural is hung in the greenhouse at Miller Plant Farm, and anyone who visits can cast their vote for their favorite mural for fifty cents.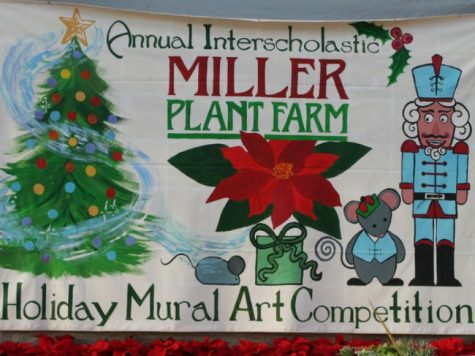 Donations from voting fifty cents each will be given to the winning school.
Senior Stevie King participated in the art show for the third year in a row and took the reins after others graduated.
"[The painting] took about a week to paint.  I stayed after until 8:30 p.m. one day to make sure the finishing touches were completed," said King.
Art teacher Wesley Myers feels he picked the best candidates for this project and is proud of his students.
"They were dedicated, they were able to dedicate their time and it was a talent I saw in them, and I had faith in them, and simply their talent," said Myers.
After the product was finished, everyone saw the vision that King and Patterson had in their mind come to life on a canvas.
Having participated in the contest for several years, King has seen the improvement in her work each year.
"This year the painting definitely turned out better than before because I had a feel for the large canvas and the big job ahead of me," said King.
From years past Myers knew there was tough competition for the winter mural they had painted, but he believes in his students.
"I think that from what I have seen before, they definitely have a shot," said Myers.