What Being a Get Real Day Peer Leader is All About
Junior and Senior Get Real Day leaders are gearing up for this year's Get Real Day.
Training took place on Monday, October 23; all of the leaders, past and present, joined together and discussed what it means to be a leader and how to be successful.
School counselor Matthew Shervington knows what Get Real Day is all about.
"Get Real Day is a program where Susquehannock, and other high schools that also run the program, partner with the York county JCC to have a day focusing on diversity and empathy, so that students come together in the sophomore class to have a realization that they're not just going through things alone; everyone has their own personal issues that they're going through," said Shervington.
Get Real Day peer leaders are picked from the junior class, and senior leaders return.
Junior Bre Kaiser explains why she chose to become a peer leader.
"I applied to become a peer leader because my peer leaders on Get Real Day were amazing and they helped me open up. It was really refreshing, and I just want to be that for the sophomores this year," said Kaiser.
30 peer leaders in total are going to be leading the sophomore class in lessons about diversity and sharing their stories about their own personal struggles.
"There is no prototypical peer leader, and that's the great thing about interviewing for peer leaders," said Shervington. "We want the sophomore class going through the program to see people that they can relate to… The biggest aspect of being a peer leader is someone who wants to make a change at Susky… Someone who just wants Susky to be a place where, when you walk in here, regardless of what's happening outside of school, regardless of your socioeconomic status, your race, your orientation, your gender, so on and so forth, that when you step inside these walls for seven and a half hours a day, you feel welcome, regardless. That's the biggest qualification," said Shervington.
Being a peer leader comes with great responsibility.
"Peer leaders go through somewhat of a mock day of what the sophomore class is going to go through to begin, so they know what they should be expecting in order to be on task and what they're going to be leading students through… Then they go through general training to remember that empathy aspect and understanding that, in terms of participation of the sophomore students, there's no wrong or right. In terms of everyone's opinions on matters on Get Real Day and beyond that, there's no wrong or right perse. They're given brief information and discourse on how to handle some conflicts that may come with Get Real Day because, again, the whole point of Get Real Day is to work with students on empathy; the idea being that students are going to be able to see each other's opposing viewpoints, and, as a students, being able to facilitate that conversation with two younger students that maybe don't know how to come to a mutual understanding or agree to disagree," said Shervington.
Kaiser sums up what she wants to pass on to her Get Real Day students.
"I just want to make an impact in their life," says Kaiser. "I want them to always remember me as their Get Real Day leader who really helped them open up and understand more about each other."
About the Writer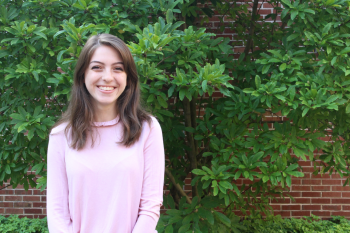 Elizabeth Johns, Assistant Editor-in-Chief
Senior Elizabeth Johns is the assistant editor-in-chief of the Courier Staff this year. She is a  journalist interested in the arts and entertainment...