Susky TV Station Suffers Technical Difficulties
Hang on for a minute...we're trying to find some more stories you might like.
Technical difficulties silenced the morning announcements at the beginning of last week.
Senior Matt Schiffbauer works on camera behind the scenes and was stunned to find out the problems in the TV studio.
"There were so many problems," said Schiffbauer "We were trying to do a newscast, and things went horribly wrong. The computer froze, then I tried to reboot it and I opened up the program that runs the morning announcements and does recordings and it reset. It completely reset. Let's just say I wasn't a happy camper."
This incident has not happened since Schiffbauer has been a student here at Susky.
"In the four years I've been here it's never happened," said Schiffbauer. "You know it was Friday the 13th when this happened, so it's probably my own bad luck."
TV studio advisor Timothy Hare had been out the past week recovering from knee surgery and wishes he could have been there to lend a hand.
"My first thought is I'm upset I can't be there to help and fix it because I know how fanky some of the equipment can be sometimes," said Hare "the software we use on the computer to run the video mixer needs updating, which is something I've been pushing for."
Hare commended Schiffbauer for trying to solve the issues while he was away.
"Matt did a fantastic job of helping to make sure the morning announcements got taken care of and getting students familiar with the TV studio and he really did a wonderful job."
Mark Rill is an administrator who occasionally helps with the TV studio and played a big part in fixing the technical issues in the TV studio.
"The issue was a windows update," said Rill. "The machine started to do a windows update that was going to take a very long time either it crashed or someone stopped it, and it didn't complete it's windows update, so therefore it had to roll back to a previous version. So the solution was to run the windows update again and let it run."
Rill does not believe that this will happen again since it is very rare.
"I think the occurrence of it is rare, and I wouldn't anticipate on it happening again. Unfortunately, I think if Mr. Hare were here while it happened, it probably would have been a one day issue," said Rill.
The TV studio is now fixed, and morning announcements are up and running again.
About the Contributors
Justin Rosenberger, Reporter
Justin Rosenberger is a senior reporter  for the first time this year. Justin hopes to get more experience writing articles and perfecting them. Justin...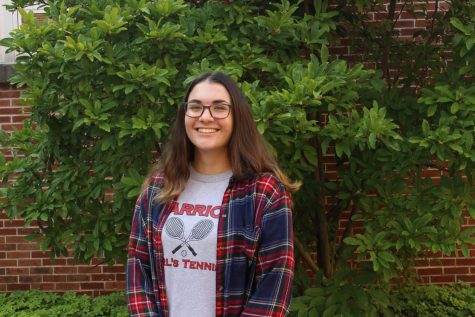 Mia Kobylski, Editor-in-Chief
Senior Mia Kobylski has been on the Courier staff for three years. She plays on the varsity tennis team and participates in Best Buds, Student Council,...