Hurricane Harvey Slams Houston with Devastating Floods
Former tropical storm Harvey exploded in the Gulf of Mexico last Thursday and became a Category 4 hurricane.
The storm spiraled toward Houston with winds topping at 132 mph last Friday, August 25.
Houston and the surrounding areas experienced catastrophic flooding with storm surges engulfing the city, while more than 300,000 people placed in shelters.
President Trump issued a state of emergency for southwestern Louisiana on August 28 and personally donated $1 million to charities aiding relief efforts from Harvey on September 8.
Matt Amberman, the AP Human geography teacher, is using this as a teachable moment.
"It's just a tragedy, and unfortunately it does relate quite a bit to our class in regards to population migration, culture, economic geography, environmental issues with oil refineries there; it's just really the perfect case study for why people should learn about human geography," said Amberman.
Houston's devastation is different than a blizzard.
"Because Houston is on the Gulf, they're often susceptible to storms from the Gulf. Because this was just the perfect storm in regards to amount of rain, it really hurt them compared to a place in Kansas, for instance. [Kansas] wouldn't be impacted by a hurricane but may be impacted by tornadoes. Or, where we live, in the northeast, more blizzards than hurricanes or tornadoes," said Amberman.
Amberman uses elements of human geography to connect with Harvey in relation to America's cultural impatience.
"I think what you're going to find is all the people who want to give money now, I think in a month, you're going to have just a fraction of those people wanting to participate and help out. I think that's really a reflection of our culture and our 'fast food' mentality of "oh, it's popular now to help out Houston," but are we going to help out Houston in 4, 5, 6 months when they really need it, when everyone is gone? Nobody wants to donate blood, nobody wants to donate food or water. That really reflects on what we do in class and it's really the human geography costs of Hurricane Harvey in Houston," Amberman said.
About the Writer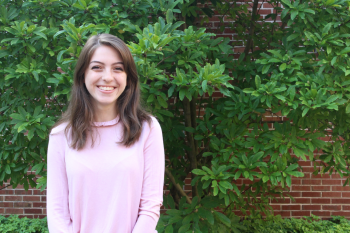 Elizabeth Johns, Assistant Editor-in-Chief
Senior Elizabeth Johns is the assistant editor-in-chief of the Courier Staff this year. She is a  journalist interested in the arts and entertainment...