Dr. Lemmon Awarded Outstanding School Administrator Award
Hang on for a minute...we're trying to find some more stories you might like.
 Superintendent Sandy Lemmon was awarded the 2017 Outstanding School Administrator by the Pennsylvania School Librarians Association on March 31.
  This award is given to a school administrator who has greatly contributed to school libraries within their district.
  Lemmon has been a huge supporter of school libraries, maintaining library programs that other districts have cut.
  Friendship Elementary librarian Anne Bozievich helped to nominate Lemmon for the award, citing her numerous visits to the libraries and enthusiasm for 21st-century learning.
  "Dr. Lemmon has shown her support for our district's libraries by ensuring that each of the five school buildings has a full-time, certified school library media specialist. While other districts across the state have cut library programs, Dr. Lemmon remains committed to ensuring Southern York County's students have access to a wide variety of books, databases and other resources," said Bozievich.
  Lemmon was honored to receive the award, and recognizes the importance of libraries, as they are places in schools where students research, learn and connect with other students.
  "Our libraries have become the heart of the school. They're really a place where all of our students and all of our teachers go to find knowledge and to be able to research. But, they're also doing so many wonderful activities… It really is the hub of the school…," said Lemmon, "It's a classroom that touches every student in the school. So for me to support them is to continue to show the value of what are libraries are for our buildings," said Lemmon.
High school librarian Kayse Corrieri greatly appreciates Lemmon's support for school libraries and believes this recognition is due.
  "…The award really is an acknowledgment by the whole entire state that she is sort of a life-long committed supporter of libraries in schools, and I think that it's recognition that's been due to her for a long time," said Corrieri. "Even through tough financial seasons and a couple really rough years that we had with finances, she always felt that keeping libraries open in schools was really an important thing and the work that happens in libraries is vital to the school."
  Lemmon continues to work to improve school libraries to make them places of creativity, inquiry and knowledge in order to expand 21st-century learning.
About the Writer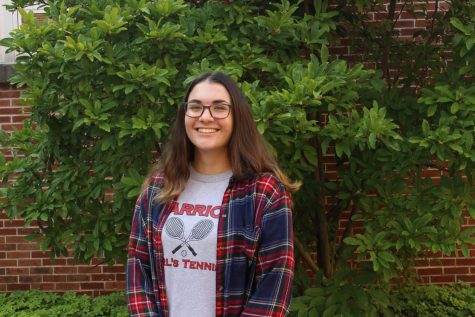 Mia Kobylski, Editor-in-Chief
Senior Mia Kobylski has been on the Courier staff for three years. She plays on the varsity tennis team and participates in Best Buds, Student Council,...