Swimmer Logan McFadden Spreads his "Wings"
By Grace Gorham, Contributing Writer
March 24, 2017|174 Views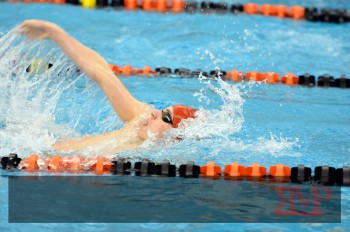 For freshman Logan McFadden, the pool is like his second home. McFadden started swimming in fifth grade when he tore his ACL and has been involved in the sport ever since.  
  Most recently, McFadden competed at the PIAA Swimming State Championships. He raced in the 200 yard IM, which consists of the butterfly, backstroke, breaststroke, and freestyle. He also swam the 500 yard freestyle, which is twenty times back and forth across the pool. His time for the 200 yard IM was 1:58:59, which earned him an 11th place finish in the state, and in the 500 free, his time was 4:45:65, which earned him 9th place in the state.
  Head swim coach and science teacher Brian Wingert was very pleased with McFadden's efforts at states.
  "I'm happy with Logan's performance at states. Logan had a very, very good 200 IM, and he got a YMCA national qualifying time. And, he improved his place in the 500 free from 14th to 9th, so he did very well," said Wingert.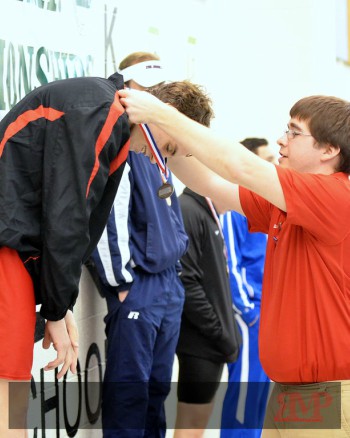 Even in such a tense environment like the state championships, McFadden is not phased by the pressure; the pool is a non-stressful place for him.
  "I love to swim because I just feel at home whenever I'm racing, or just in the pool practicing. Also, whenever I'm at practice, it's super stress-free, and I don't worry about anything," said McFadden.
 As just a freshman with multiple accomplishments under his belt, McFadden has lofty goals set for a very promising future ahead of him.
  "Some of my biggest accomplishments are making national cuts and being able to represent the high school in a statewide meet," said McFadden. "My goal is to at least make Olympic trials and hopefully make Olympics. Also, I'm hoping to get hopefully a pretty big scholarship into college for swim."
  Freshman and teammate Keely Coyle is impressed by how skilled McFadden is as a freshman.
  "Logan is a really good teammate to have. He is an amazing swimmer, and he really gets us a lot of points," said Coyle. "His accomplishments are amazing for a freshman. Most freshmen, such as myself, are average in their performance, but Logan is above most seniors."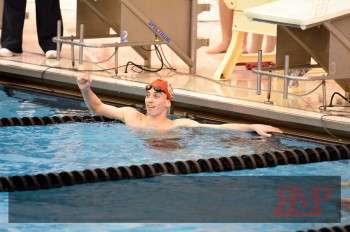 Coyle also thinks that McFadden has the talent and drive to go as far as he wants with swimming.
"I think that with Logan's achievements so far, such as getting 9th and 11th in states, he will go very far," said Coyle. "He is definitely a swimmer to watch out for. He has the potential for great things in his future. In my opinion, he has chances of scholarships and even the Olympics if he keeps it up."
  Wingert describes some of the traits McFadden has that he thinks make him such a good athlete.
  "He's a hard worker, he's dedicated, and he takes criticism well," said Wingert.
  Since McFadden has these traits, Wingert believes that he will be able to go wherever he wants with swimming in the future.
"I think if he keeps up the hard work and improves his technique and continues to improve his endurance, he could go to any school that he wanted to, and swim there. And yes, I do think he is a possible Olympian," said Wingert.
About the Writer
Grace Gorham, Contributing Writer
Senior Grace Gorham is a contributing writer for the Courier this year. Outside of school, she rides horses competitively. In her free time, she enjoys...