New 'Beauty and the Beast' is Becoming a Favorite
   Another Disney classic has made it to the big screens with the new movie, Beauty and the Beast, which has reached top five for America's newest, most popular movies.
   Emma Watson (Belle) took herself on a magical adventure during the making of this movie. She got out of her comfort zone and was able to bring out her inner princess by singing all the songs that we know and love from Beauty and the Beast (1991).
   Senior Sydney Delpi saw the movie and questions Watson's voice when she sings the fairy tale's original songs.
"In the first song "Belle," Emma Watson's voice sounds completely auto-tuned. I don't believe it's her natural voice, if she has one at all," said Delpi.
The five star original, animated version of Beauty and the Beast won 29 awards with 21 nominations for other awards.
The box office for this version was 425 million dollars.
The 2017 version has also been rated with five stars like the original version with the majority of the audience being older viewers.
   Guidance Counselor Matthew Shervinton believes the film had a certain audience in mind.
"It's very much nostalgic as they recreated some things almost as if they took the animations and magically made them come to life," said Shervington. "However, there are some new plot and character development points designed to make it its own unique movie for this generation of children and young adults to eventually watch with their children."
There were 91.8 million viewers of the trailer alone within the first 24 hours of it being released.
As of March 17, the total amount of money made during opening weekend alone was $174,750,616.
 Emma Watson wasn't the only actor that fans were excited about playing as one of the main characters.
Luke Evans plays the main role of Gaston. He played an great role in being arrogant and romantic in trying to woo his crush, Belle.
His sidekick, LeFou, played by Josh Gad, created the comedic relief the audience was looking for throughout the movie with his "special" personality that was a little bit different than the original version.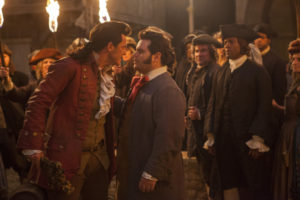 Beauty and the Beasts ratings still continue to skyrocket; since opening night, the total gross income for the movie so far is $48.26 million.
English teacher Jessica Beste likes what Disney has done with this new movie and claims it to be successful.
"I think it was very successful. I thought Disney did a really nice job capturing the essence of the original version. Plus, also making it modern through some different plot events and added some more songs to it," said Beste.
Beauty and the Beast is currently one of the most popular movies in America today and is playing in theaters near you.