Orchestra Students Get Creative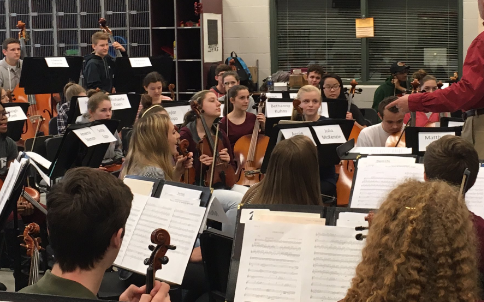 Hang on for a minute...we're trying to find some more stories you might like.
The orchestra students are working towards performing a different kind of concert where they get to display more personalized playing in smaller groups referred to as chamber groups. On March 8 the students will perform a concert with their chamber groups at 7 p.m in the Glen Rock Church.
The students were put into smaller groups with only one or two people on a part. Once they get their groups together, they selected what piece they wish to perform in the concert.
This concert is a great opportunity for the musicians to learn how to work together and rehearse a piece with less
teacher assistance.
Senior Philip Karpouzie enjoys working on the music with a smaller group of people.
"I like developing the sound and style," said Karpouzie. "Being able to hear myself and how it blends with everyone else [is really important]."
The students have to put in a lot of time and effort to prepare these pieces for the concert.
Junior Erin Kaliszak has been working hard with her group on their music.
"We have coachings that we need to attend every two weeks where we work with Mr. Kaliszak," said Kaliszak. "Then we have some rehearsals during class where we get together and work on our own. We also practice our personal parts [on our own time]."
For a lot of students, this is their favorite concert of the year because of the amount of independent student work. This concert is the one that the students are most responsible for since they are able to choose their groups and their music.       

Sophomore Greyson Daviau appreciates that the students have more choice in the concert.
"It's cool that we get to have more control in this concert," said Daviau. "Everything we choose needs to be approved, but overall we have the most say in what we do for this concert."
The chamber concert is the most personalized concert of the year with a wide variety of music performed. If you wish to see some of the hidden talent in the orchestra, come see their chamber concert on March 8.