Indoor Color Guard Starts Off the Season
  So far this season, members of the "white guard" in indoor color guard have completed and placed in 3   competitions.
  Freshman Josh Delozier explained what being in the white guard means.
  "I'm in the white guard. That means that we're technically the 'varsity guard,' so we [compete] at a higher level [than other color guard members]," said Delozier.
  Delozier also recapped how their season has been going so far.
  "Our season has been going good. We had one first place, one second place and most recently, a fifth place," said Delozier.
  Freshman McKenzie Sauter believes that this season for her is going very well.
  "My season has been amazing. I would even say it's the best one I've had yet," said Sauter.

This season so far has been sophomore Barbara Barrett's favorite.
  "My season has been going pretty well… this has been my favorite season of indoor so far," said Barrett.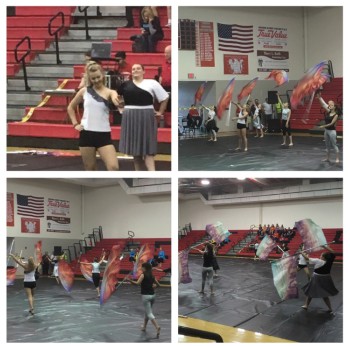 In their first two competitions, the team placed first and second, but then in their most recent competition, they placed fifth. This was a little bit of a disappointment for the team, but they plan to keep working and moving forward to the next competition.
  "It's a little depressing [to get a fifth place,] but we just need to work harder and be better," said Delozier.
  Sauter knows what she has to work on herself in order to perform better at competitions.
  "Individually, I feel that I need to work on my skills with saber and rifle. With our team losing 4 amazing seniors, we'll need some more members on weapon line, and I would be glad to be part of it," said Sauter.
  Many team members think that the group needs to learn to work together more, and the lack of people working together could have resulted in their fifth place at the last competition.
  "We don't [work well as a team]… it just kind of happens… we should probably learn how to work better as a team, and just work on our technique," said Delozier.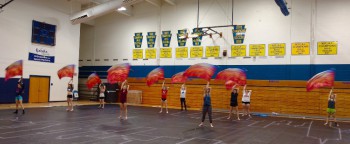 Sauter thinks that if the team could work out their differences, that would allow them to be a more cohesive team, and they would be able to perform better.
  "My team works together fairly well, I would say. We definitely have our issues, but then again what team doesn't… I think we definitely need to work on our communication. At times there can be some issues between members within the guard, and I feel that if we learn to communicate our issues better we would be better overall as a team," said Sauter.
  Barrett thinks that the team can sometimes work together well, but they still need to work on some aspects of their communication skills.
  "Our team works together by listening to each other's criticisms and learning from them. We need to work on getting along better and accepting each other's differences," said Barrett.
  Even throughout wins, losses, and struggles that the team may go through, Sauter is thankful for all of the people in color guard and how they have benefitted her life.
  "I would like to say how much I'm thankful for the people on the color guard. They've helped me grow as a person and I'm so grateful for that," said Sauter.
About the Writer
Grace Gorham, Contributing Writer
Senior Grace Gorham is a contributing writer for the Courier this year. Outside of school, she rides horses competitively. In her free time, she enjoys...