Myers Returns from Maternity Leave
 Beloved French teacher Stephanie Myers, simply known as "Madame,"  returned from maternity leave on January 30.
 Senior Gabby Maiorano takes AP French and missed having Madame as a teacher for the full year.
  "I feel like she really understands how we like to learn. She always makes it fun, and we never have the same day," said Maiorano. "I think that she's really kind, and she genuinely wants the best for her students."
  Myers' baby boy, Parker, was born on October 25, and she is happy to be a mom.
  "He's a happy little thing, and he's the love of my life," said Myers, "I'm looking forward to watching him grow. I'm nervous about all of the societal influences that are out there in the world and all of the things that could possibly go wrong."
  It was sad for many when she left in October, and although numerous substitutes were brought in to teach her classes, none compared to Myers in the eyes of her students.
  Because there were so many different people brought in to teach French, some of the lower French levels were left feeling defeated.
  In addition, a new AP French course was added to the curriculum this year, and students like senior Casey Kummer have been preparing for the AP test without a real teacher.
  "Since I've had French for four years, it wasn't as difficult as I know it was for some of the younger levels in French. But since we're preparing to take an AP test, it was just kind of frustrating…," said Kummer.
  Myers' students are happy to have her back as they were counting down the days until she returned.
  Myers is proud of her students for persevering throughout the whole endeavor, and although  she is excited to be back, it is a transition.
    "The hardest thing about coming back from maternity leave is being on a set schedule again, and having bells dictate your life," said Myers, "I think things went well considering the circumstances, and I think they persevered and were excited when I came back."
About the Writer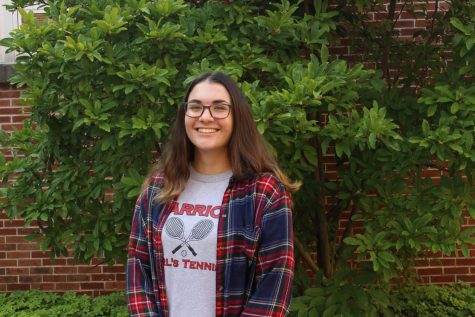 Mia Kobylski, Editor-in-Chief
Senior Mia Kobylski has been on the Courier staff for three years. She plays on the varsity tennis team and participates in Best Buds, Student Council,...