Swope Swiftly Swoops into Susky
  After completing her student teaching at Southwestern High School, English teacher Kyla Swope has now joined Warrior Nation to take over the English substitute position.
  Swope received her bachelors in communications from Shippensburg University and teacher certification from Wilson College.
  After growing up with two teachers as her parents, Swope decided that she would follow in their footsteps because she has an interest in working with kids. Although she is one now, Swopes did not always want to become an English teacher. She started off wanting to teach at the elementary level, but after serving as a substitute in an elementary school, she decided that she would rather teach older kids.
  Read below to hear about some of Swope's interests:
Favorite color?

Purple or gray.
Favorite food?

Anything chocolate.
Night owl or morning person?

Night owl.
Fiction or nonfiction?

Fiction.
What is your favorite hobby?

Reading.
Favorite movie?

The Notebook.
Favorite TV show?

Grey's Anatomy, How To Get Away With Murder and Scandal. I love those three shows on Thursday nights.
If you could live anywhere in the world, where would it be?

Where I am because I'm very close to my family.
What is one item you could NEVER live without?

GPS.
Sunrise or sunset?

Sunset.
Dog or cat person?

I have two of each, but I love my dogs.
iPhone or Samsung?

iPhone, Apple all the way.
Coke or Pepsi?

If it's at McDonald's- coke, because McDonald's coke is awesome. But otherwise Pepsi.
Winter or summer?

Summer.
Beach or mountains?

Mountains.
Comedy or mystery?

Comedy.
Chocolate or vanilla?

Chocolate.
Books or movies?

Definitely books, movies never seem to live up to the book.
Fruit or vegetables?

Both.
Crushed ice or cubed ice?

Crushed.
Pancakes or waffles?

Pancakes.
Orange juice or apple juice?

Orange juice.
Roller coaster or ferris wheel?

Roller coaster.
Bagels or muffins?

Muffins.
Would you rather work 8-hours standing or 10-hours sitting?

8-hours standing.
Snakes or sharks?

Sharks.
Peanut butter or jelly? Peanut Butter.
Washing dishes or doing laundry?

Doing laundry.
Jello or pudding?

Pudding.
About the Writer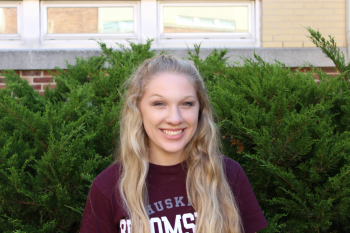 Logan Garvey, Editor-in-Chief
Senior Logan Garvey, a third-year Courier reporter, is editor-in-chief of the publication. At Susquehannock, Logan is also a part of the cast and crew...