Students Recognized for Creative Writing
By Grace Gorham, Contributing Writer
February 22, 2017|145 Views
Recently, several students involved with the creative writing club and a few of gifted education teacher Kate Newland's students received awards for different works of writing that they submitted to the 2017 South Central Pennsylvania Scholastic Art & Writing Competition.
Freshmen Ian Achterberg and Emily Heiser both won gold keys for essays that they wrote titled, "The Meaning of Metathesiophobia" and "Africa: What Could Have Been." Freshmen Amber McClure and Kristen Krobot won silver keys for their poetry entries titled, "What Living Has Taught Me," and "Five Stages of Grief." Sophomore Ellie Stevenson won an honorable mention for her short story, "Mystery Man," and sophomore Megan Watkins also won an honorable mention for her photography project, "Allison Wonderland."
  Freshman Amber McClure won a silver key for a collection of three poems she submitted under the category, "What living has taught me."
  McClure's poems are mostly about life experiences that she has had.

  "The series of poems that I submitted were topics based on what I learned from living. As I have aged, I've learned more and more from experiences, which inspire my writing. My ideas are all original, inspired by my life story," said McClure.
  When McClure saw that she had won a key, it made her feel verified as a writer, and that her poems had a purpose.
  "I felt proud of myself, that my poems meant something to someone, and that out of about 2,300 people, and over 70 schools, they recognized my writing… it means that my poems mean something and that I am heard; I am not just some stranger in a room full of poets," said McClure.  
  Writing is McClure's passion, and she likes to write to try and express her emotions.
  "I love to write so people can relate to what I'm saying. Many people feel certain ways, but can not express their thoughts with words, so they do it through writing, as I do," said McClure.
  Winning a key in the competition made McClure feel even more motivated to keep putting her emotions into words and to keep finding the people who can relate to her writing.
  "I plan to keep writing and keep sharing my pieces with any audience that will listen. I want to inspire people to step out of their comfort zones, and I want them to know it is okay to feel the way they do," said McClure.
  Freshman Kristen Krobot also won a silver key for a poetry entry titled "Five Stages of Grief."
  Krobot's poem is about a specific event in her life where she went through many emotions.
  "Basically the poem is about the five stages of grief, and I wrote it about how I felt going through each stage. It wasn't about anybody dying, it was about losing a relationship -not romantic- with someone who I used to be close with," said Krobot.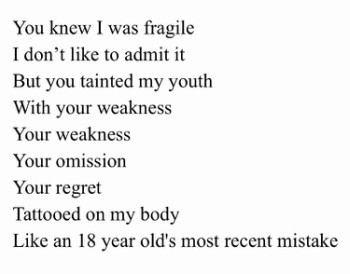 When Krobot won a key, she was surprised that her writing was recognized because to her it is a tool she uses to help her get through different events in her life.
  "I was really emotional because you never expect to get recognition for a tool that you use to cope about something, so it was really surprising and I was really happy," said Krobot.
  Krobot enjoys writing because it is an effective coping mechanism that she uses when she needs to sort out her emotions.
  "For me, it's when I can't sort through my emotions or when something bad happens, or when I just feel a certain emotion, it's good to write about it, and I feel so much better. It's definitely a coping mechanism for me," said Krobot.
  Winning a key in the competition gave Krobot a confidence boost in her writing and made her feel more assured about putting her emotions into words and sharing them with people.
  "It showed me that I'm not bad at writing and that [creative writing] is something that I can pursue in the future. I think that this will help me be more open with my writing and not as insecure about it, and I think it will open me up to being more honest with people and showing my writing to more people," said Krobot.
  Freshman Emily Heiser won a gold key for a critical essay that she submitted called, "Africa: What Could Have Been."
  Heiser's piece of writing was about how Africa became the country that it is today.
  "The essay was about Africa and how it's normally viewed as a poor country, and you don't really hear nice things about it, and how it got that way because of the slave trade," said Heiser.
  Heiser was very surprised to hear that she had won first place with the piece of writing she entered, and it showed her that she has a talent for writing.
  "I was surprised [when I saw that I won the key] because I didn't really expect that, but I was glad that I got it… it just means that I can do it, and that I can keep going on to do it more," said Heiser.
  For Heiser, she likes to write because it allows her to put all of her thoughts out there.
  "I think it's fun to be able to put your thoughts down and express what you want to say," said Heiser.
  In the future, Heiser hopes to submit more pieces of writing to Scholastic. Since she won a gold key, she will also move on to the national stage, and the same essay she wrote will be entered in that competition.
About the Writer
Grace Gorham, Contributing Writer
Senior Grace Gorham is a contributing writer for the Courier this year. Outside of school, she rides horses competitively. In her free time, she enjoys...