Coming Up in Music…
 This week in music many people are starting to rave about the Super Bowl, the 59th Annual Grammy Awards and this week's music charts.
The Super Bowl halftime show had everyone raving over Lady Gaga and her performance. Many were hopeful that Beyoncé would also be apart of the show, but Gaga turned this claim down almost immediately. On Thursday at her press conference, she gave inside details as to what would be happening during the halftime show and answered a few questions. During her performance, she started out on the top of the stadium and skydived down to her stage. The audience on the field was choreographed and made a bright, flashing show. The songs she performed were a medley of her older songs along with one of her newer songs, "A Million Reasons."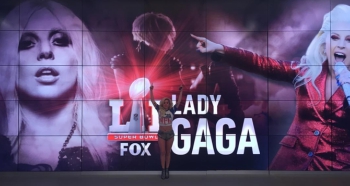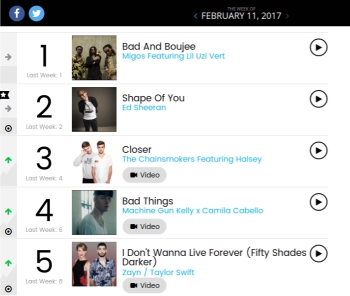 This week's charts include some well-known artists, such as Ed Sheeran, Zayn and The Chainsmokers. The top five are listed as "Bad and Boujee" by Migos, featuring Lil Uzi Vert, next is "Shape of You" by Ed Sheeran, "Closer" by The Chainsmokers featuring Halsey, "Bad Things" by Machine Gun Kelly, featuring Camila Cabello, and finally "I Don't Wanna Live Forever" by Zayn featuring Taylor Swift. Some of the tracks have either fallen down or raised on the chart in the past week since it was last updated.
The Grammys are to take place on February 12, and many artists will perform. Some of the artists are: Metallica, Carrie Underwood and John Legend. There were rumors that Dave Grohl, Anderson ..Paak and A Tribe Called Quest would be performing together, but Dave Grohl will not be performing with the two artists. Rappers such as Chance the Rapper, Rihanna, Drake and Kanye West have made a huge appearance in the nominations. Some of the nominations you can expect them in are "Best New Artist," "Album of the Year" or "Best Rap Song."
About the Contributor
Jayde-Rhiannon Jackson, Photo Editor
Sophomore Jayde-Rhiannon Jackson is the photo editor for the Courier staff. She is currently involved with student council, the literature magazine, and...