App of the Week: Fam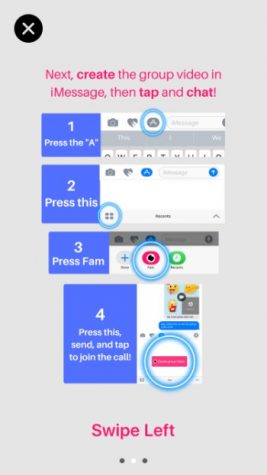 If you have ever wished that there would be an easy way to FaceTime multiple friends at once, the app 'Fam' is for you.
  Fam allows you to FaceTime with up to eight of your friends at once, all through iMessage. Even though it is used directly through iMessage, it is not affiliated with Apple. For example, FaceTime is a unique feature that Apple created and is part of the pre-installed Apple apps, Fam is not.
   There are other apps that are used for group video chats, but Fam is unique because of its ability to be used directly through iMessage, making it extremely easy to start a group FaceTime when you are in a group chat with all of your friends. However, it can only be used on iPhones.
  There are only a few steps that you have to go through to start a group video chat with your friends. First, you must download 'Fam' from the App Store. Once the app is installed, you just have to enter your phone number to the app, and then it will automatically be set up in iMessage. All you have to do next is go to iMessage, click on the '>' button next to the keyboard, and then click on the button that is the same symbol as the App Store. You will see the 'Fam' icon, and if you click on it, it will send a message to all of your friends saying that you started a video chat.
  Freshman Natalie Thomas gives her thoughts after she has used the app.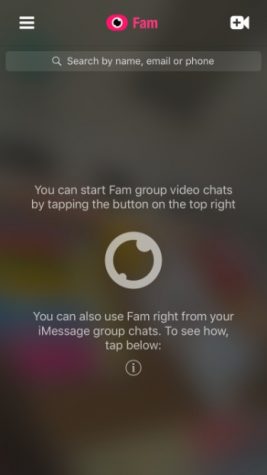 "It was really fun. I feel like it is an innovative app that allows you to chat with all of your friends at once, instead of normal FaceTime, where you would have to do it one at a time," said Thomas.
  Freshman Emma Williams was pleased with her experience with the app.
  "It met my expectations. I was just expecting a FaceTime with a bunch of people, and that's exactly what it was. I'm happy that there is an alternative to the other apps that aren't as easy to use," said Williams.
  Although Williams liked the app, she thought that it could benefit from a few improvements.
  "I would like if you would get a notification when someone sends you a 'Fam' invite, so it should say, 'person's name joined,' so that you know who is all on it. It was kind of awkward because you didn't know who was on it when you
clicked on the invite, so sometimes it was just you by yourself," said Williams.
  Freshman Caroline Kinna describes her favorite feature of the app.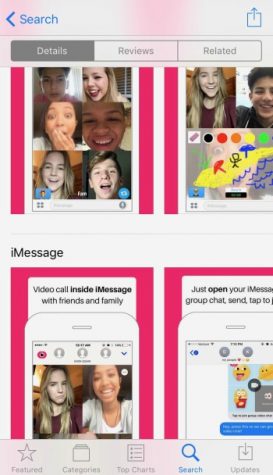 "My favorite feature is that I didn't have to bother downloading and learning how to use a new app, and that it was so easy to use… it just welcomed all of my friends without having to use a whole other app, we could just use messages," said Kinna.

  Kinna had never heard of the app before recently, but it was extremely convenient and easy to use for her.

  "I didn't know about the app initially. My friends texted it in a group chat, so I kind of learned how to use it from that. After that it was really easy to use," said Kinna.
  The app 'Fam' is becoming popular because of its ease of use and its innovative way to connect with up to eight of your friends.  
About the Writer
Grace Gorham, Contributing Writer
Senior Grace Gorham is a contributing writer for the Courier this year. Outside of school, she rides horses competitively. In her free time, she enjoys...