Yearbook's Newest Edition: Senior Quotes
  Susquehannock High School is introducing a brand new idea to this year's yearbook, giving students a chance to express themselves.
  The yearbook staff had a class discussion and worked together to create something new for this year's yearbook by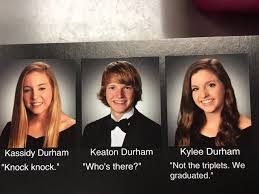 deciding that they are allowing this year's seniors to have senior quotes under their senior pictures.
  Yearbook production staff advisor Jessica Beste encourages seniors to make their senior quote something meaningful and encouraging.
  "A lot of people do memories they've had, or quotes for their sports teams or about pushing yourself to get into your first choice school," said Beste. "Another neat idea was thank you notes. They are all so different, and we want to make it more open so everyone has a choice. Like an idea of who you are right now, or who you want or are going to become. Something encouraging."
  Seniors are excited to create quotes describing themselves, their humor and their lives.
  Senior Josh Joy is deciding between numerous quotes but thinks he's found the one.
   "The best thing you'll ever learn is just to love and be loved in return. – David Bowie," said Joy. "It means something to me and that's what matters most."
  Many seniors are excited to share their quotes in the yearbook since they are the first senior class at Susquehannock to have senior quotes.
  For students, finding the right quote can be a pain, but friends, family and the internet are all good sources for finding winners.
  Senior Dean Lochte is excited about the senior quotes and hopes that everyone takes it seriously instead of doing something that doesn't represent themselves.
  "I think the hardest part about finding a senior quote is finding one that reflects your overall four years. I hope people take it seriously and don't do something that they will regret in the future," said Lochte. "But overall, I'm happy we're doing senior quotes because it adds more personality to the school, the yearbook and each senior student.
  Senior quotes are due Wednesday, February 1. All quotes should be submitted via Google Classroom.
About the Writer
Autumn Polanowski, Reporter
Senior Autumn Polanowski is in her first year of The Courier's staff. She is very interested in giving advice to her peers through her writing and by showing...