Exposed: The Importance of Choir
  When the word "musician" is said in a conversation, choir and singing typically are not the first words to pop into someone's mind.
 One may think of musical instruments and conductors, but singing in a choir still has had a major impact on those involved with a chorus, whether it be in high school or at the professional level.
  According to composer John Rutter from the video, The Importance of Choir, "Choral music is not one of life's frills. It's something that goes to the very heart of our humanity, our sense of community, and our souls. You express, when you sing, your soul in song. And when you get together with a group of other singers, it becomes more than the sum of the parts. All of those people are pouring out their hearts and souls in perfect harmony, which is kind of an emblem for what we need in this world, when so much of the world is at odds with itself…that just to express, in symbolic terms, what it's like when human beings are in harmony. That's a lesson for our times and for all time."
  Science teacher Barbara Nealon was in the choral division of the Baltimore Symphony Orchestra before it was shut down due to financial problems, but is currently a member of the Mount Desert Summer Chorale and feels that she has been involved with these choirs due to her commitment to singing in high school.
  "If I would have not had choir in school, I would not sing today in choirs. It gives me an escape from work, it allows me to be a part of a bigger group, it allows me to express myself musically in a way that I can't by myself. And that's huge to me. Had I not had that person in high school teach me the values of being in a choir, I would miss all that in my life today," said Nealon. "I find when I'm not happy [or] I've had a bad day I go home, I sit at my piano and I work on my choral music, and I feel better afterwards naturally. I wouldn't have that if it weren't for high school chorus."
  This feeling of relaxation comes from endorphins and oxytocin– two hormones that are released while singing. Besides relieving stress and anxiety, oxytocin increases feelings of trust and bonding, which also goes to show how singing can reduce emotions of depression and loneliness.  
  Senior Kristy Smith feels that she is close enough with everyone to call the choir her family and enjoys how this same family-like mentality is carried out through the entire time they perform.
  "[When] singing with other choirs it was just kind of singing and doing your part but [with] this choir, since we are all so close, when we sing some of the songs that are more emotional, I just have to stop because I'm tearing up," said Smith.  "Just looking around, we all care about this, and we're all singing to the best of our abilities…. even like [when we sang] 'Hallelujah' when the alumni came up, I think that's really special and…. [this shows that] even if they're gone for so many years they come back because the choir meant something to them, and that's a really beautiful thing."
  After being involved with multiple different choirs in the past, choral director Jay Althouse was moved by a time when he was singing with his county's choir.
  "The one moment I can definitely recall [that impacted me] was in our county chorus [back in high school,] and we were singing 'Wanting Memories'… it was precursored by the guest conductor telling us a story about the piece and doing a little activity to get to know each other where we had to share our best memories with each other, and we met these people two days beforehand," said Althouse. "Because we shared these kind of intimate details, then all of the sudden when we were singing in the concert, the words popped out more…we all looked around and had this energy that [showed] we're here to support each other…and we were changed for the better because of that… you can just say 'wow. This is really special and I appreciate these people a lot."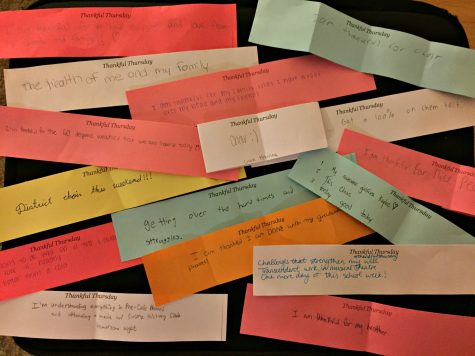 Some choir members feel that singing in a group not only unites them as a family, but also makes them emotionally stronger by singing together.
  "Alone, I'm not a soloist. But together, what can we do? Think of the song… 'We Are The World," said Nealon. "Those people with different thoughts and backgrounds all came together with one cause. And I think that's what choral singing is. Because together we are stronger…I think that is the message, that together we do it."
  Althouse also believes that choirs are an accepting environment and act as a stand for peace.
  "Because of everything that's happening in the world, and there's so many things at odds with each other, choir is a place where we don't shut people out. We bring people in and say 'you want to be here? We will gladly accept you," said Althouse. "I don't care what background you have, I don't care what religion you are, or not religious. I don't care what sexual orientation you are- you're here. And right now, especially in the United States but across the world [as well,] when things are so divisive… I hope that when people see choirs it uplifts their spirits."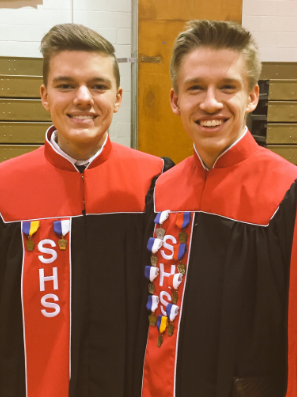 Junior Justin Rosenberger feels that the music department as a whole can be a place where many can find something that interests them.
  "Most people can be involved in [music]," said Rosenberger. "I think a lot of people are really talented in [the music department]… for those people who aren't that good at something like a sport, they can achieve really great success in music."
  Overall, choir is a great way to make friends, bring people together with a common interest and act as a hobby for many to relieve stress from everyday life.
  "When you bring people from all walks of life- Republicans, Democrats, people from France, people from Russia," said Nealon. "You bring them all together with that common goal and the other 'stuff' is gone and it's all about the music and the message of the music… that is really important to me." Baseball has a team. Soccer has a team. Debate club has a team. But for many, choir is also a team.
About the Contributor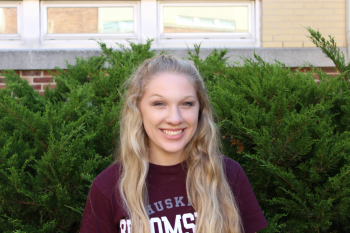 Logan Garvey, Editor-in-Chief
Senior Logan Garvey, a third-year Courier reporter, is editor-in-chief of the publication. At Susquehannock, Logan is also a part of the cast and crew...