Diving into the Swim Season
   As winter is slowly approaching, so is the new swim season. Students have been preparing and practicing since the end of last winter.
    The boys and girls swim team have been working hard to beat their own times and the other team's times.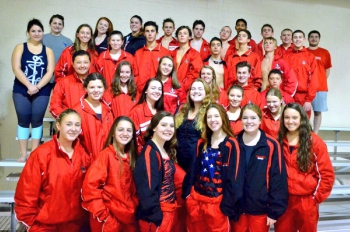 Senior Dean Lochte believes the swim team considers each other to be more like family members, instead of competitors.
  "We've pretty much considered each other a family since freshman year, and that like shows because we all hang out outside of school too," says Lochte.
  The students this weekend attended an invitational in Dover where they were able to show off their skills and practice before the season officially begins this upcoming Thursday at their first home meet.
  Athletic director Brad Keeney thinks there will be particularly harder meets.
  "If I'm not mistaken, Gettysburg… is going to be a tough one, and York Suburban is always a tough one," said Keeney.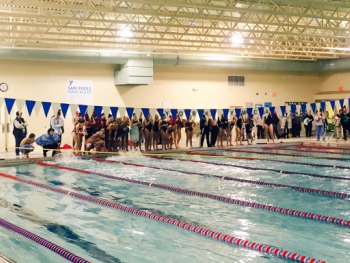 As the season begins, a "Swimmer to Watch" is named and this season it is senior Justin Reed. He spends his summers practicing and getting back into shape before the winter season approaches. Reed spends around three to five hours practicing during the season and working on becoming a better swimmer.
  Reed mentioned that swimming has been difficult and has definitely taken him some time to get ready for the season.
  "The toll it's taken on my body [has been difficult]. Having to go through physical therapy all summer and rebuilding my muscles," said Reed.  
  Reed has also mentioned that being named "Swimmer to Watch" is an honor since this is his last year on the swim team.
  Lochte gave us the inside scoop on who the "best" swimmer on the team has been this season.
  "Our new swimmer, Logan Mcfadden most likely [is going to be the swimmer with the highest scores]. He comes from the York Y, and he swims everyday so he is pretty good," said Lochte.
  Freshman Logan Mcfadden joined the Susquehannock swim team but has been swimming at the York YMCA for about three years competitively. He started swimming after he tore his ACL in fifth grade. Since then, swimming has become his passion.
  The swim team has a meet every Thursday as well as morning workouts on Monday, Wednesday and Friday. They also have afternoon swim practices every weekday from 3 P.M. to 5:30 P.M. 
  Overall, the swimmers and the student body are both looking forward to the winter swim season.
About the Contributor
Jayde-Rhiannon Jackson, Photo Editor
Sophomore Jayde-Rhiannon Jackson is the photo editor for the Courier staff. She is currently involved with student council, the literature magazine, and...